93% of banks perceive eligible borrowers get stimulus loans: BIBM
BI Report || BusinessInsider
Published: 04:02, 12 October 2021 Update: 04:29, 12 October 2021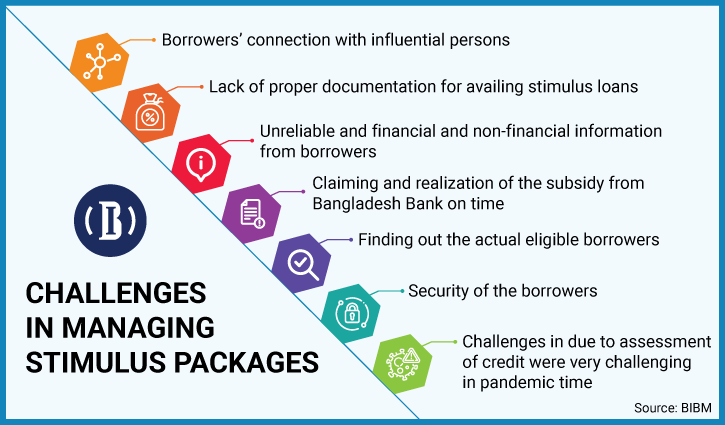 Photo illustration: Business Insider Bangladesh
Over 93 percent of banks believe that actual eligible borrowers have got the benefits of stimulus packages offered by the government and the central bank since the coronavirus pandemic struck the country in March last year, according to a survey report released by the Bangladesh Institute of Bank Management (BIBM).
The BIBM report also found that eligible borrowers got the loans because the processes — from loan applications to loan disbursements — were not time consuming. Over 62 percent of banks said the loan process was faster than before.
Around 79 percent respondent banks in the survey said that the cottage, micro and SMEs were not ignored to avail the facility of stimulus loans.
Like other countries, Bangladesh is also facing numerous challenges due to the ongoing pandemic, which has impacted every sector of real economy.
Amid these ongoing ups and downs, BIBM has undertaken an initiative to review the credit operations of banks in 2020. Dr Prashanta Kumar Banerjee, professor of BIBM, led the review team.
Ahmed Jamal, chairman of BIBM executive committee and deputy governor of Bangladesh Bank, was present as chief guest at the event. Mohammed Sohail Mustafa, associate professor and director (Training & Certification Program) of BIBM delivered the welcome address. Dr Md Akhtaruzzaman, director general of BIBM chaired the programme.
According to BIBM, the central bank allotted Tk 76,910 crore to the respondent banks under stimulus packages in 2020, whereas the banks were successful in disbursing Tk 71,457 crore or 92.91 percent of the total allotted amount.
Over three-fourth of the loans under stimulus packages were disbursed to the manufacturing industry, found the survey.
About 38.87 percent of bank credit was outstanding in the largest loan category of above Tk 20 crore in 2020.
The review was conducted on the basis of primary and secondary data as well. For collecting primary data, a semi structured questionnaire was sent to all scheduled banks. However, only half of the banks provided primary data.
Secondary data sources included various publications of Bangladesh Bank, such as BB's annual reports, economic trends, BB's bulletin, circulars and scheduled banks statistics.