Some want to assume power thru dead bodies: PM
BI Desk || BusinessInsider
Published: 22:30, 21 November 2023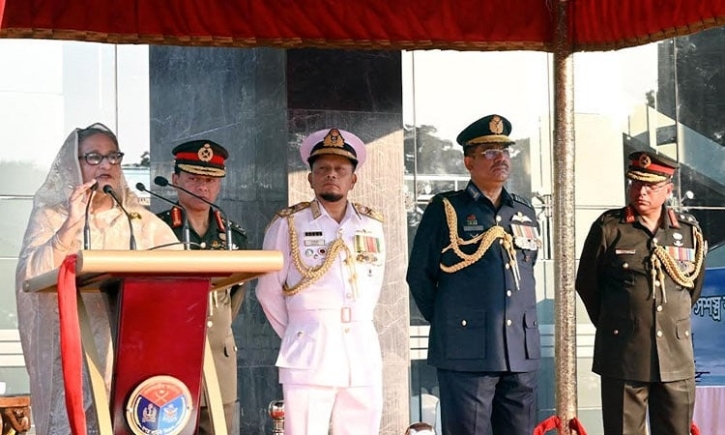 Photo: Collected
Prime Minister Sheikh Hasina on Tuesday said that some people who are thinking of assuming power over dead bodies are very inhuman.
"I don't see such brutality anywhere else as those who want to assume power through killing people. It's beyond imagination to think," she said while addressing the Armed Forces Day-2023 Reception at Senakunja at Dhaka Cantonment in Dhaka.
Sheikh Hasina said, "I don't know. . . my question is why people are burnt alive and killed? I still don't understand why buses are being torched and state properties are being destroyed."
She said that the government is facing one challenge after another such as Covid-19. "We dealt with that," she said, adding that the government has to deal with various kinds of troubles particularly arson violence.
Expressing her desire for bringing peace, Sheikh Hasina said, "We want peace not only within the country but also in the region and across the globe."
"Our foreign policy is very clear- friendship with all, malice to none," she added.
Mentioning that Bangladesh is a country of peace, the premier said "When people are in peace, they get relief; people are glittering the ray of hope and they are moving forward; at that time, fire, terrorism, strikes and blockades are disrupting people's lives again; (it is) throwing (people) into a panic and danger ; This is the most nature of sadness."
Sheikh Hasina said she wants those who are doing these things would get back their good senses. "Instead of doing this destructive acts , (they) join the democratic trend, let keep their trust and believe in people."
Expressing her hope to advance the country further, the eldest daughter of Father of the Nation Bangabandhu Sheikh Mujibur Rahman said, "I've lost my parents and brothers. I have neither to lose nor to gain."
"But for the people of Bangladesh, since my father has struggled his entire life, we want to take this Bangladesh forward," she added.
The prime minister said that today Bangladesh has got the status of a developing nation as per the plan of her government. "Our journey as a developing nation will begin in 2026 ."
She went on saying "We've already started working on the plan. My only goal is that no one can stop this indomitable progress of Bangladesh."
Urging the armed forces to get ready all times, the premier said, "we don't want war with anyone. We want only peace."
"But, we must always keep in mind that to protect our country from external attacks, we must have proper preparations to protect our independence and sovereignty," she added.
Sheikh Hasina said "our armed forces will work as round-the -clock vanguard to protect the independence and sovereignty of our country."
Highlighting the initiative of the Awami League government to strengthen the armed forces, she said that the armed forces are always active and strong for maintaining peace.
Praising the armed forces, Sheikh Hasina said that "our armed forces stand by the people at the time of any natural disaster or state of emergency ."