Hasan blames some countries for weaponizing human rights, democracy
BI Report || BusinessInsider
Published: 00:27, 3 October 2023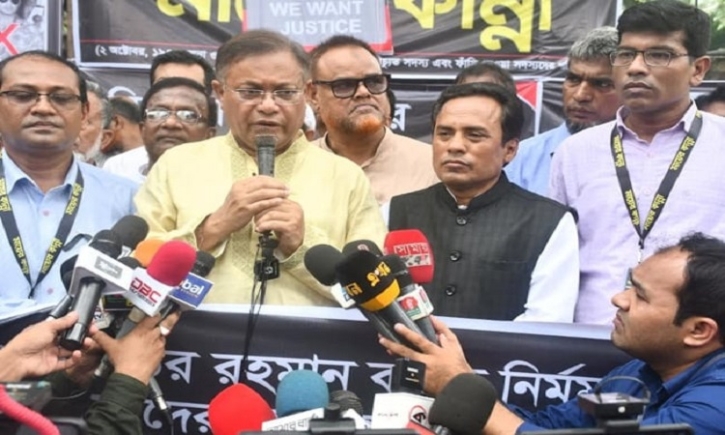 Photo: Collected
Information and Broadcasting Minister Dr Hasan Mahmud has said the grief of families of innocent army personnel, who were killed by military ruler Ziaur Rahman in 1977-1979 and families of victims of arson attacks in 2013-15 never reached the ears of 'flag-bearers of human rights'.
He said this while addressing a rally followed by a human-chain in front of Jatiya Press Club (JPC) in Dhaka on Monday.
BSS adds: He said, "This pain never reaches the ears of those who talks about human rights and do business centering human rights."
'Mayer Kanna', an organization of relatives of the victims of killings carried out by Ziaur Rahman in 1977, 1978 and 1979, formed the human-chain.
Organization's convener Kamruzzaman Lenin chaired it while AL organizing secretary Sujit Roy Nandi and former state minister Tarana Halim spoke.
Dr Hasan, also Awami League joint general secretary, said now some countries are using human rights as their weapon to suppress the countries where development and progress are taking place but they are not getting proper access there to do business.
He said business over human rights and using it as weapon at home and abroad should be stopped.
About the next general elections, he said many countries cannot accept the massive progress Bangladesh has made under Prime Minister Sheikh Hasina's leadership.
So, on different excuses, firstly they talk about human rights and then free and fair polls, he mentioned.
Hasan said a free, fair, neutral and universally acceptable election must be held in Bangladesh with the participation of its people.
The government will extend all-out cooperation to the Election Commission to this end, he said.
Addressing foreign countries, the minister said: "Please don't give us lesson of democracy. None becomes victim of killing in attack on our parliament building after besieging it. In most of the cases, defeated contestants accept their defeat. But US Republican presidential candidate Donald Trump is yet to accept his defeat. Democracy does not exist in many countries who want to give lesson of democracy to others."
Hasan said putting her life in risk, Bangabandhu's daughter Sheikh Hasina established democracy in the country by waging movements and struggle against autocratic rule by uniting the people.
"So, those who oust elected governments in different countries by talking about democracy and human rights, don't give us lesson of democracy please," he said.
About graft case convict BNP chairperson Begum Khaleda Zia's treatment abroad, the minister said BNP is using Begum Zia as 'political guinea pig' as whenever she became ill, BNP said if she is not taken abroad, she will die but every time she returned home from hospital after getting well.
"Actually BNP is using Begum Zia as their political guinea pig and chess piece. BNP doesn't want that Begum Zia gets well. They want she becomes more ill, as they can politicize her illness," he said.
Hasan said the government is making her all-out strides to ensure highest treatment to a former prime minister of the country Begum Zia.
It is the jurisdiction of the court to allow her going abroad, he mentioned.
"Without court order, she cannot go abroad, so don't do politics over the matter," the information said.
Claiming that plans are being designed to carry out terrorism in the country again, he said BNP has realized that they failed to engage people by calling different types of programme so that they are making evil design to carry out arson and terrorism to create unrest and instability in the country and allow the 'world traders' to take advantage here.
He firmly announced that AL stays in street and will do in the coming days as well and none will be allowed to create disorder in the country as like as 2013, 2014 and 2015.
They will be dealt in iron hand, he added.