President Shahabuddin reaches Turkey to attend Erdogan's oath-taking
Published: 16:38, 2 June 2023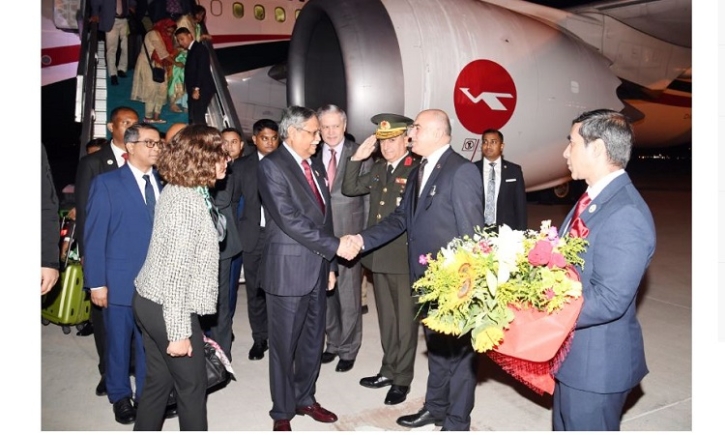 Photo: Collected
President Mohammed Shahabuddin on Friday reached Turkey's capital Ankara to attend the oath taking ceremony of Turkish President-elect Recep Tayyip Erdogan, slated for June 3.
"A VVIP aircraft (Flight No-BG 207) of Biman Bangladesh Airlines, carrying the President along with his spouse Rebecca Sultana and his entourage members, landed Ankara Esenboga Airport, Ankara at about 4:30 am (Turkey local time)," President's Press Secretary Md Joynal Abedin, who is accompanying the President said.
Shahabuddin was received by Bangladesh ambassador to Turkey M Amanul Haq and representatives from the Ministry of Foreign Affairs including, Ambassador Oya Tunga Cagli, Head of Department Gönenç Ağacıklıoğlu, DG for Protocol Mert Can Yazıcı, Third Secretary and DG for South Asia at the airport.
In Turkiey, President Md Shahabuddin will stay at the Sheraton Ankara Hotel & Convention Center.
The president will attend the oath-taking ceremony of his Turkish counterpart at the Presidential Complex in Ankara at 5 pm (Turkey local time) there, according to President's tour schedule.
The vising president will attend several programmes, including official engagements with high-level dignitaries and an official dinner hosted by his Turkish counterpart Erdogan at Cankaya Palace, Ankara, during the visit.
The President is expected to return home by a VVIP on June 6 wrapping up his six-day tour.