UN honors five fallen Bangladeshi peacekeepers
Published: 14:04, 26 May 2023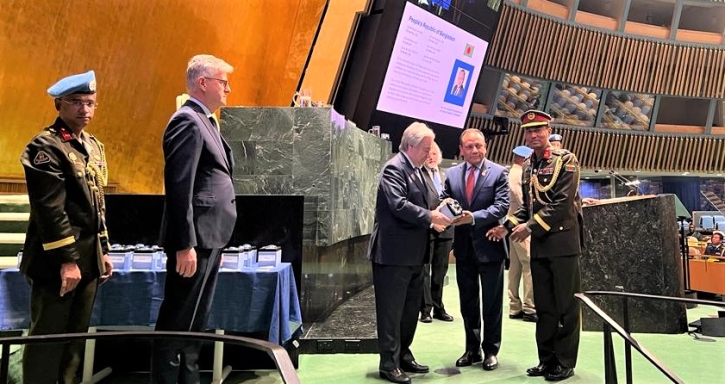 Photo: Collected
The United Nations has awarded 'Dag Hammarskjöld Medal' to five fallen Bangladeshi peacekeepers for their supreme sacrifice in UN Peacekeeping operations.
The award was handed over on Friday at the General Assembly Hall by the UN Secretary-General António Guterres in a ceremony to honor 103 peacekeepers from 39 countries who sacrificed their lives in the line of duty in 2022.
The respective Permanent Representatives received the awards on behalf of their countries.
Ambassador Muhammad Abdul Muhith, Permanent Representative of Bangladesh to the UN in New York, received the medals on behalf of the fallen peacekeepers of Bangladesh on May 25.
The five Bangladeshi fallen peacekeepers are: Sergeant Md Manjur Rahman (was serving in UNISFA, Abyei), Lance Corporal Kafil Majumder (was serving in UNMISS, South Sudan), Sainik Md Sharif Hossain (was serving in MUNISCA, Central African Republic), SainikMd JahangirAlam (was serving in MINUSCA, Central African Republic) and Sainik Md Jasim Uddin (was serving in MINUSCA, Central African Republic).
After receiving the Medal, Ambassador Muhith signed the condolence book kept at the General Assembly Hall on this occasion and expressed his deepest condolences to the bereaved families of the fallen peacekeepers.
Bangladesh is currently the top contributor of uniformed personnel to UN peacekeeping operations.
At present around 7,500 Bangladeshi peacekeepers are deployed in 9 peacekeeping missions. So far, 166 peacekeepers from Bangladesh have lost their lives while serving in UN peacekeeping operations.