Spain seeks to foster deeper connections with Bangladesh through football fans
Published: 18:11, 24 May 2023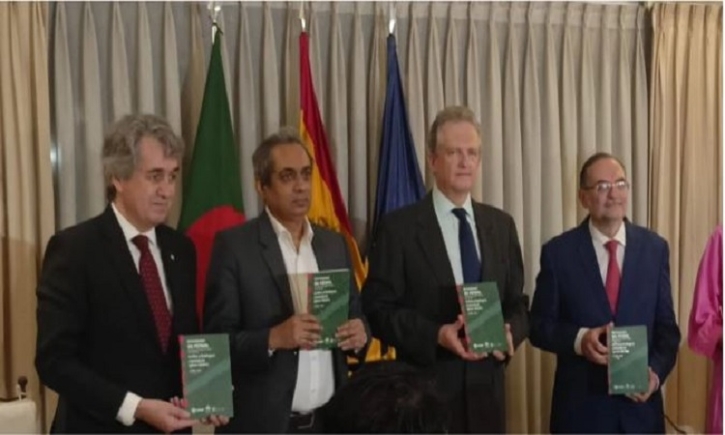 Photo: Collected
LaLiga and the Embassy of Spain in Bangladesh, together with Instituto Cervantes and Catedra Inditex, on Tuesday evening unveiled the Spanish-Bangla football dictionary in Dhaka.
At the ceremony, LaLiga presented the book as part of their ongoing efforts to promote stronger connections in the Indian subcontinent.
The dictionary was presented by the Ambassador of Spain in Bangladesh, Francisco de Asis Benitez Salas, José Antonio Cachaza, Managing Director LaLiga for the region, Amparo Porta, Director of Catedra Inditex and Oscar Pujol, Director of the Instituto Cervantes in Delhi.
Keeping in mind Bangladesh's rich football narrative in Asia and growing appetite for football, the dictionary will offer the reader in-depth information about LaLiga Santander and LaLiga SmartBank clubs.
The dictionary provides translations of various gameplay actions, significant sporting achievements and popular football terminology.
Taking advantage of football as a vehicle to promote social development and create positive change, the book will provide a platform to strengthen connections and promote a deeper understanding between the people of Bangladesh and Spain.
Moreover, the dictionary also includes social guidelines to facilitate effective communication and interaction in various settings.
Speaking at the presentation, Francisco de Asis Benítez Salas, Ambassador of Spain in Bangladesh said as football continues to gain popularity in Bangladesh, leveraging this shared passion for the sport to foster deeper connections is an effective approach.
"With football as a common thread, these initiatives will not only reinforce existing ties but will also contribute to the growth, mutual understanding and appreciation between our two countries, paving the way for a brighter future of cooperation and partnership," he said.
The Ambassador said the initiative will help know each other in a better way.
"It is very good way of bonding. This is quite a good initiative to show how deeply the two countries are. "We are enjoying solid diplomatic relations."
Jose Antonio Cachaza, Managing Director, LaLiga India said they continue to build on our vision and impact in the Indian subcontinent; Bangladesh is an area of key importance for LaLiga.
"Our efforts are focused on utilising the shared passion for football as a foundation to expand, strengthen and deepen cultural/sporting relations between our two nations. In time, we believe this dictionary will not only diminish linguistic barriers but will also facilitate partnerships across a variety of sectors."
Amparo Porta, from Inditex Chair, Dhaka University focused on the importance of Futbol as part of Twenty First Century´s Spanish culture.
"We cannot deny how deep is the print of this sport in Spain. But it is amazing to be a witness of the importance of Spanish football and LaLiga in Bangladesh. We have been teaching Spanish language in the University of Dhaka during the last twelve years, and many of our students joined our lessons because they are followers of LaLiga. This means that they first knew about Sergio Ramos, but now they also know Miguel de Cervantes."
Oscar Pujol, Director Instituto Cervantes Delhi said, "Not only Spanish has become very popular in Bangladesh in the last 20 years, but also soccer. Since Spain's victory in the 2010 World Cup, the popularity of Spanish teams has continued to grow and the presence of LaLiga has greatly contributed to this. For this reason, it is very relevant to publish this football dictionary in Bengali now. The marriage between language and soccer is especially important in Bangladesh."
The Spanish-Bangla dictionary is LaLiga's third translation exercise this year in the region; following the recently unveiled Spanish-Bengali & Spanish-Hindi football dictionary in India.
It's been published before in Chinese, Arabic, Hungarian, Japanese and several other languages.
LaLiga is a global, innovative and socially responsible organisation, a leader in the leisure and entertainment sector.
It is a private sports association composed of 20 teams in LaLiga Santander and 22 in LaLiga SmartBank, responsible for the organisation of these national professional football competitions.