Sheikh Hasina's home return in 1981 restored democracy: Hasan
BI Desk || BusinessInsider
Published: 21:37, 20 May 2023 Update: 21:40, 20 May 2023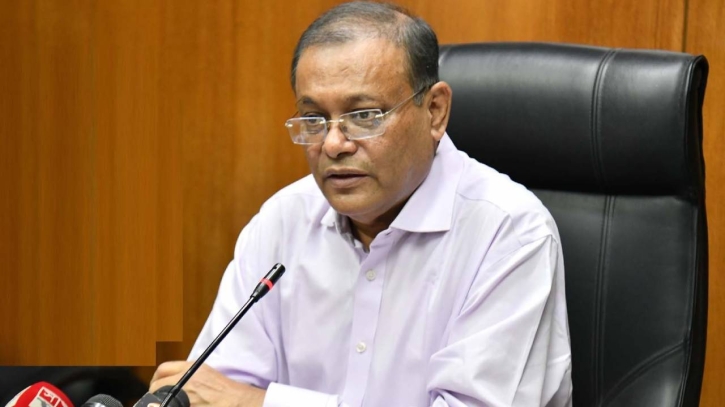 File photo
Information and Broadcasting Minister Dr Hasan Mahmud on Saturday said democracy was restored, Liberation War spirit was established and smile was brought on people's face as Awami League President Sheikh Hasina returned home on May 17, 1981.
He said this while addressing a discussion marking the Homecoming Day of AL President Sheikh Hasina at Dhaka University (DU) Teacher-Student Centre (TSC) auditorium in Dhaka, reports Bangladesh Sangbad Sangstha.
Bangladesh Chhatra League (BCL) organised the discussion with BCL President Saddam Hussain in the chair. It was moderated by its General Secretary Sheikh Wali Asif Enan.
Senior journalist Monjurul Ahsan Bulbul also took part in the discussion.
Noting the success of the prime minister's recent visit to Japan, the United States and the United Kingdom and the World Bank's approach towards Bangladesh, the minister said now Sheikh Hasina is not only the leader of Bangladesh rather she becomes a global leader.
About BNP leaders' remarks, Dr Hasan, also Awami League joint general secretary, called upon BNP to contest the next general elections to witness whether Sheikh Hasina's government has popularity or not.
In 2008 general elections, BNP got 29 seats contesting the polls with its full-strength under the leadership of Begum Khaleda Zia, he said.
The minister said BNP had fled from the elations in 2014 and they contested the 2018 elections riding on 'the election train'. "I am requesting BNP to join the next polls," he said.
About the global support to Prime Minister Sheikh Hasina, he said recently the premier visited Japan, the US and the UK. Those who were in the premier's entourage saw how Japan honoured Sheikh Hasina, he said.
The minister said Japan signed a deal to provide 30 billion yen to Bangladesh as assistance.
Once the World Bank had cancelled its credit for Padma Bridge but now the bank realised its mistake, he said.
Dr Hasan said the WB called programme for Prime Minister Sheikh Hasina on holiday as she had no time except Saturday. The WB arranged programme only for the premier and gave proposal for fresh financing in Bangladesh, he added.
"Moreover, UK Prime Minister Rishi Sunak met Jananetri Sheikh Hasina and said, 'You are our idol. My wife and off-springs also consider you as idol," he said.
Dr Hasan said if BNP Secretary General Mirza Fakhrul Islam Alamgir and others can't hear these, they should consult physicians or if they don't see these, they should consult ophthalmologists.
"You can receive treatment from your doctors' association DAB. If DAB can't treat, you can receive help from our Swadhinata Chikitshak Parishad," he said.
He said Bangladesh has surpassed even India in social, human and health indexes.
"In 2021, we have surpassed India in terms of per capital income," he added.
Because of these successes, Sheikh Hasina is being lauded in talk-shows in India and Pakistan and political arena of the countries. Politicians of the countries are facing huge criticism," he said.
"It is sorrowful but true that Sheikh Hasina has not been lauded enough in our television channels. It is reality," he said.
The minister said the media should showcase the nation's successes and achievements to make the people dream bigger.
But it is natural that media will present flaws and mistakes of the responsible persons and it will criticise the government as well, he mentioned.
"But if successes of the nation are not presented, people cannot be hopeful," he added.
Dr Hasan urged the Bangladesh Chhatra League (BCL) leaders and workers to build a Smart Bangladesh under the leadership of Sheikh Hasina.
To build a Smart Bangladesh, BCL workers will have to be self-reliant in information and communication technology, he said.
He urged the BCL workers to remain alert against spreading of anti-state and anti-government propaganda on social media.
DU unit BCL President Mazharul Kabir Shayan and its General Secretary Tanbir Hasan Shaikat also spoke on the occasion, among others.