Honey collection begins in Sundarbans
Published: 13:11, 1 April 2023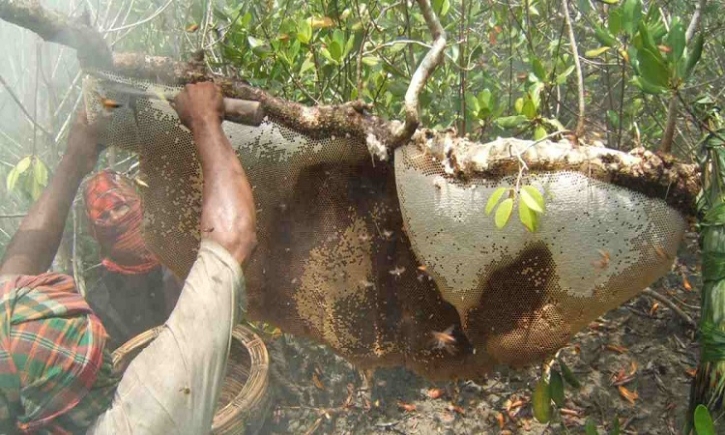 Photo: Collected
The season of collecting honey from the Sundarbans formally began on Saturday.
The honey season was formally inaugurated this noon by collecting honey in the Satkhira range area of the west Sundarbans.
Honey collectors were permitted after training on the premises of the Government Primary School adjacent to the Burigoalini Forest Office of the West Forest Division.
With the pass, the honey collectors will go to the deep forest to collect honey.
The patrolling of the Forest Department has been strengthened to collect honey in the Sundarbans without any hindrance and the collectors were advised to move carefully to protect themselves from the attack of wild animals, said Divisional Forest Officer (DFO) of Sundarbans West Division Abu Naser Mohsin Hossain.
A target has been set to collect 3,000 quintals of honey and 800 quintals of wax in the Sundarbans this year, he said.
Most of the honey is found in the Satkhira range of the Sundarbans.
According to the Forest Department, 1,012 permits were issued for the collection of honey and wax in 2021.
Against the permits, 6,797 honey collectors went to the Sundarbans and collected 3,376.90 tonnes of honey and 113.09 tonnes of wax. Tk 25,64,363 revenue was earned from honey and Tk 10,25,850 from wax.
In 2022, the revenue from honey was Tk 36,93,600 and from wax, it was Tk 15,31,200. That year, 2,320 quintals of honey and 696 quintals of wax were found in the Sundarbans.