Padma bridge rail link completed: officials
Published: 09:58, 30 March 2023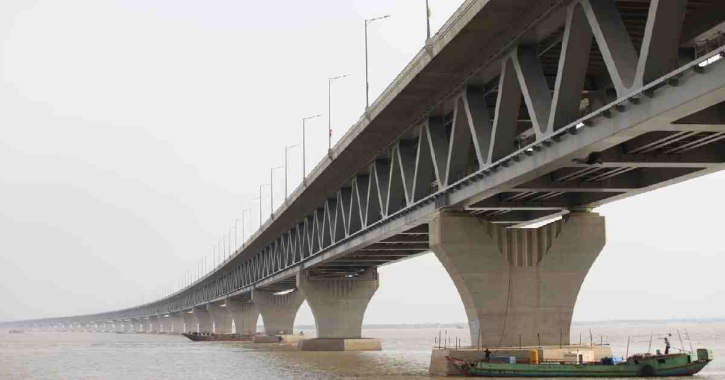 File photo
The railway construction on the 6.15-km Padma bridge was completed on Wednesday after welding the last remaining seven metres of the track.
Md Afzal Hossain, the project director of the Padma Bridge Rail Link Project announced the completion of the project on Wednesday afternoon.
"We'll conduct a trial run on the 41-km railway from Bhanga to Mawa on April 4." Afzal Hossain told reporters.
"We're hoping to start Dhaka-Bhanga rail communication by the end of this year," he said.
The welding started at 5:15 pm on Wednesday after the final phase of testing by local and foreign engineers to connect the upper part of the Padma to the railway. The concrete mixture was brought from Mawa by a track car. Then it was poured on the sleepers with the help of the crane.
Later, the level was adjusted after the mixture was evenly spread using the vibration machine.
Brigadier Saeed Ahmed, project manager of the Mawa-Bhanga section of the Padma Bridge Rail Link project, said: "This is another dream victory for Bangladeshis. Under the leadership of Prime Minister Sheikh Hasina, the Padma Multipurpose Bridge is now a reality."
"The construction of the railway line was completed with the highest importance to the quality of the work. Now the next phase of the finishing work will also be completed in a quick time," he added.
The concreting of the rail bridge started in full swing on November 23 last year and ended in 127 days.
The total number of sleepers on the bridge is 1122.
Of them, 274 were imported from China, while the remainder were constructed locally of international standards.