BNP takes path of conspiracy as it fears polls: Hasan
BI Desk || BusinessInsider
Published: 20:06, 20 March 2023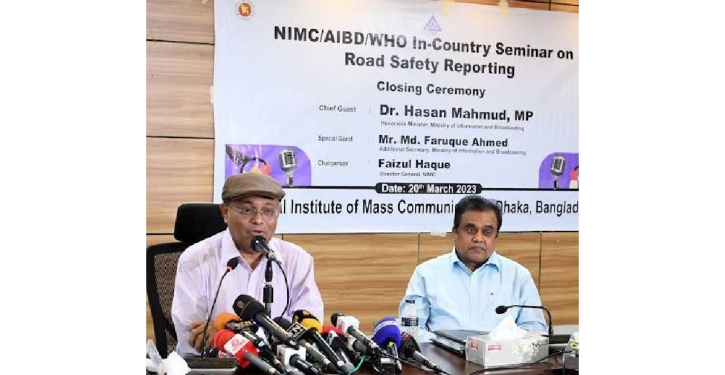 Photo: Collected
Information and Broadcasting Minister Dr Hasan Mahmud on Monday said the BNP becomes afraid of elections as the party knows about their popularity.
"That is why they are not on the path of elections rather it takes the path of conspiracy," he said while replying to reporters after addressing as the chief guest a seminar titled 'Road Safety Reporting' at Tathya Bhaban in the city's Kakrail area.
National Institute of Mass Communication (NIMC) organised the seminar, reports Bangladesh Sangbad Sangstha.
Asked about BNP Secretary General Mirza Fakhrul Islam Alamgir's comment that 'BNP will not step into the trap of elections', the minister said actually BNP has become afraid of elections.
"It is natural for the BNP to become afraid. Because, the party under the leadership of Begum Khaleda Zia got only 29 seats among 300 in 2008 elections even after applying its highest strength. Later, winning a by-election, they crossed 30 seats," he said.
In 2014, the BNP had boycotted elections and in 2018 elections, BNP joined elections after forging an alliance of many parties and 'hiring' Dr Kamal Hossain but got only seven seats including woman seat.
Hasan, also Awami League joint general secretary, said: "BNP knows about their popularity. They know how much success they can achieve in elections. That is why, they become afraid of elections and they took the path of conspiracy".
"We want the BNP joins the polls after overcoming their fear," he said.
The minister said the current government will act as polls-time government and elections will be held under the Elections Commission as like as that of other democratic countries.
"Ruling party Awami League will join the polls and we expect that all political parties including BNP will join it," he said.
Replying to Mirza Fakhrul Islam Alamgir's comment that "Awami League's peace rally sounds like peace committee of 1971", Hasan said Fakhrul's father was member of peace committee and he was pro-Pakistani.
After the independence, Mirza Fakhrul also went into concealment for many days and that is why the issue of peace committee comes into his mind to a great extent and nothing else, he said.
The AL joint general secretary said whenever the BNP holds political programmes either they are locked into infighting or makes chaos with police.
"We along with the people are holding peace rallies to keep intact the country's peace and discipline," he said.
Earlier, addressing the seminar, the minister said a road accident doesn't only kills a person or makes him or her paralyzed rather it kills an entire family or makes paralysed.
He underscored the need for taking up concerted efforts by transport owners, drivers, workers and law enforcement agencies and people to stop road accidents.
The minister urged the electronic media to air consciousness-raising advertisement to this end at their own initiative.
"Many talk-shows are held on politics. Talk-shows should be held on road safety and journalists should make objective reports on the issue," he said.
NIMC Director General Faizul Haque chaired the seminar while Additional Secretary Md Faruque Ahmed addressed it as the special guest and Road Safety Foundation Chairman Professor Dr Al Mahbub Uddin Ahmed, Bangladesh University of Engineering and Technology (BUET) Accident Research Institute's Professor Dr Mohammad Mahbub Alam Talukder, News Agency UNB's Advisory Editor Farid Hossain, Bangladesh Road Transport Authority (BRTA) Director (Road Safety) Sheikh Mohammad Mahbub-e-Rabbani, Asia-Pacific Institute for Broadcasting Development (AIBD) Programme Manager Nabeel Tirmazi, NIMC Director Dr Md Maruf Nawaz and NIMC Deputy Director Mohammed Abu Sadique addressed the seminar.
A total of 20 journalists took part in the seminar which was arranged with the association of World Health Organisation (WHO) and AIBD.