Take cybercriminals to task: PM Hasina asks law enforcers
Published: 13:12, 19 March 2023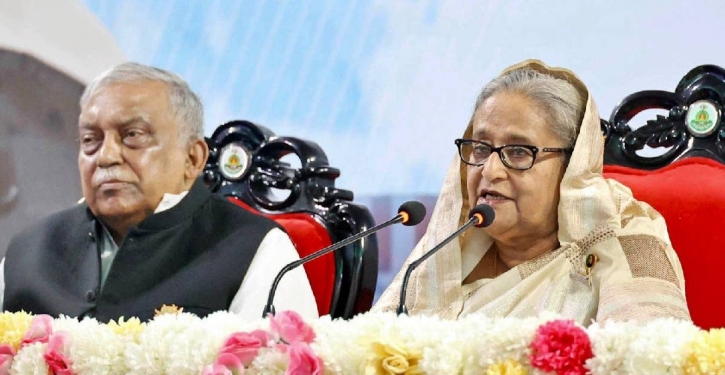 Photo: Collected
Prime Minister Sheikh Hasina on Sunday asked the law enforcement agencies to take proper action against cybercrimes.
"We'll have to be careful against cybercrimes and take action accordingly. I would like to tell all , including RAB and every intelligence agency, that they will have to play a proper role in this regard," she said.
The prime minister was addressing the 19th founding anniversary of the Rapid Action Battalion (RAB) at the RAB Forces Headquarters in Kurmitola here.
Noting that her government built the country as Digital Bangladesh, she said the cybercrimes have increased alongside creation of huge scopes due to the digitization.
Hasina said they made the digital Bangladesh for the welfare of the people not for sufferings.
She said there are some anti-state forces. They see nothing, no matter how much good work Bangladesh does. There is another class of people who defame Bangladesh before the foreigners and they get financial or other benefits for it.
Talking about the sanction imposed on Rab (officials) by the USA, the premier asked the RAB members not to be upset hearing the words from others rather move with self-confidence.
"This is our country that was achieved through the sacrifice of blood. In this country, we know who does what job and we'll judge them. We'll have to work with this confidence," she said.
"We will have to identify those who tarnish institutions of Bangladesh one after another by carrying out propaganda and defaming Bangladesh. We'll have to find out why they are doing it and their purpose," she added.
The PM said Bangladesh can judge who has done good or bad. "If anyone commits an offense, we must speak about it. Don't be upset hearing words from others. You'll have to move with the sense of self- esteem and self-confidence, which is the biggest matter. You will have to keep it in mind," she said.
About the activities of teenage gangs, PM Hasina said parents, teachers and public representatives alongside the law enforcement agencies have also the responsibility to work for eliminating the teenage gangs.
"The teenage gangs must be stopped," she said.
Home Minister Asaduzzaman Khan and RAB Director General Addl. IGP M Khurshid Hossain also spoke at the programme.