Chinese embassy initiates Smart Classrooms at a school in Chandpur
Published: 09:25, 19 March 2023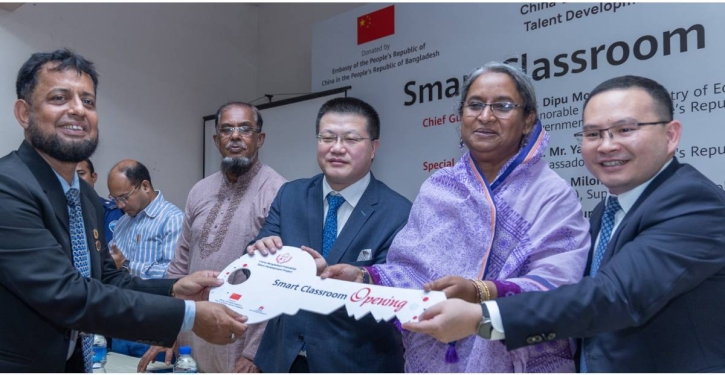 Photo: Collected
Chinese Ambassador to Bangladesh Yao Wen has said that as a good friend and good neighbor of Bangladesh, the Chinese government and people have regarded education as one of the key areas of bilateral cooperation.
He said this while addressing at a function organized to handover the first smart classroom with the latest smart education solution from Huawei to Chandpur Government Technical School and College recently.
According to Huawei, the classroom was handed over as part of the Chinese embassy's friendship project for talent development.
As the very first initiative, Chandpur has been equipped with an advanced learning solution that will allow the teachers and students to have advanced onsite and online teaching and study platforms.
Education Minister Dr Dipu Moni, who was chief guest at the function, said that the use of technology within these smart classrooms will enable enhanced learning experiences for students, equipping them with crucial ICT skills.
"I believe this project will facilitate the learners to eventually take Bangladesh to great heights."
She also thanked the Embassy and Huawei South Asia for taking the initiative.
Pan Junfeng, CEO of Huawei South Asia; Md. Mahbubur Rahman, Principle in Charge, Chandpur Government Technical School & College, and other high officials also addressed at the function.
Chinese embassy has initiated the Higher Vocational Education Program with Ministry of Education in Bangladesh since the year of 2018,
The Chinese ambassador said his country will provide more opportunities for Bangladeshi students to study in China and further deepen the friendship between the two countries.
China is also one of the top destinations for Bangladeshi students to study. Cumulatively, over 14,000 are studying in China.
On the other hand, he said Chinese enterprises like Huawei have diligently undertaken corporate social responsibilities (CSR) in this country to improve people's well-being and promote social development in Bangladesh.
This smart classroom is another example of cooperation between two countries and a contribution of Huawei to Bangladesh under the testimony to expand the relation, said the ambassador.
Pan Junfeng, CEO of Huawei South Asia, said, "China-Bangladesh Friendship Donation Project holds the potential to revolutionize education in Bangladesh.
He said the smart classroom is a concept that uses technologies to enable enhanced learning experiences for students.
Introducing smart school systems will help in making education more interesting as well as support the development of crucial ICT skills among students at a very early age.
This project will facilitate the learners to become skilled and steadfast adults who will take Bangladesh forward to great heights. Huawei is delighted to be a partner of this project.
The Chinese Embassy in Bangladesh donated whole smart classroom solutions including two Idea Hubs (Huawei's Interactive Whiteboard) whole classroom WIFI coverage, online learning platforms with abundant ICT course-related materials like videos, online courses and educational contents to Chandpur Government Technical School and College.