Bangabandhu's 103rd birth anniversary on Friday
Published: 20:55, 16 March 2023 Update: 20:56, 16 March 2023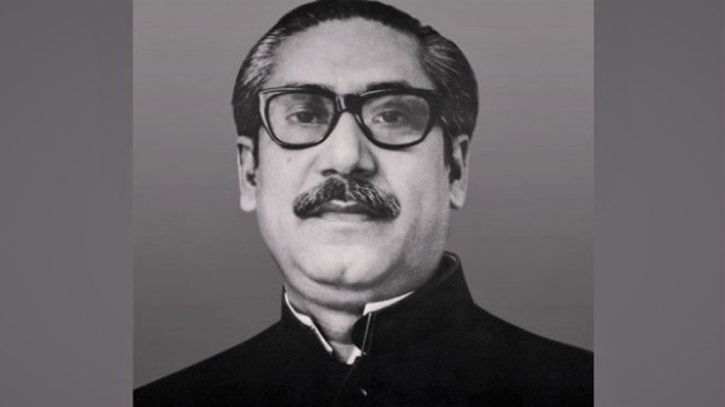 BaFather of the Nation Bangabandhu Sheikh Mujibur Rahman. Photo: Collected
The nation is set to celebrate the 103rd anniversary of the birth of Father of the Nation Bangabandhu Sheikh Mujibur Rahman on Friday.
The day, which is a public holiday, will also be celebrated as the National Children's Day.
Bangabandhu was born in Tungipara village of Gopalganj on March 17, 1920. While studying at Islamia College in Kolkata, he got involved in active politics.
Both while in and out of jail, Bangabandhu led the Language Movement. On February 21, 1952, when Language Movement activists were killed, Bangabandhu was observing a hunger strike in jail.
In continuation of the Language Movement, all major movements of Bangalees including the General Elections in 1970 and the War of Liberation in 1971 were led by Sheikh Mujib.
Through his dynamic leadership, Bangabandhu organised the Bangalee nation to fight against exploitation and repression by the Pakistani rulers. The movement culminated in independent Bangladesh through the nine-month Liberation War in 1971.
When Bangabandhu was moving forward with an aim to build a Golden Bangladesh overcoming all obstacles, the defeated and anti-liberation war clique assassinated him along with most of his family members on August 15, 1975.
The government declared the period from March 17, 2020, to March 26, 2021, as the 'Mujib Borsho' marking the birth centenary of Bangabandhu. However, it was extended till March 31 this year.
Different socio-political organisations, including Awami League and its associated bodies, have chalked out elaborate programmes to observe the day.
Prime Minister Sheikh Hasina and President Abdul Hamid will place wreaths at the portrait of Bangabandhu at Bangabandhu Bhaban at Dhanmondi at 7am.
Then Prime Minister Sheikh Hasina will pay homage to Bangabandhu by placing wreaths at his grave at 10:30am.
At that time, she will also place guard of honour and participate in a prayer programme.
President Abdul Hamid will pay homage to Bangabandhu by placing wreaths at his grave in Tungipara at 10am.