PM Hasina slams price hike during Ramadan
BI Report || BusinessInsider
Published: 13:04, 16 March 2023 Update: 14:59, 16 March 2023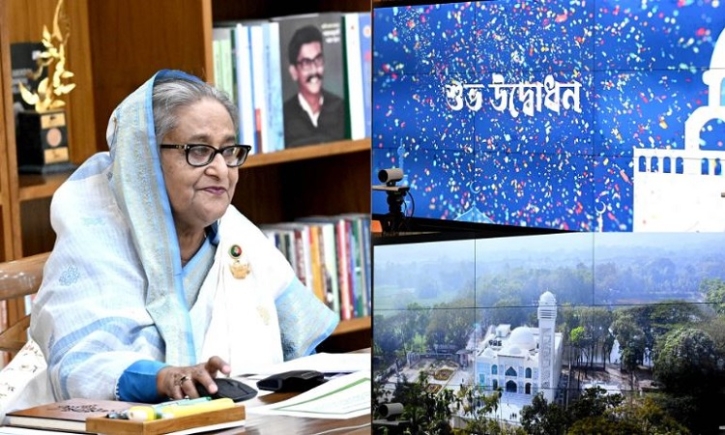 Photo: PID
Prime Minister Sheikh Hasina on Thursday came down heavily on a section of businessmen who indulge in the unethical act of increasing the prices of essential commodities during the holy month of Ramadan.
"Ramadan is coming and we know that some businessmen are trying to hike prices of the essential commodities ahead of the month. This is an absolutely flagitious act," she said.
The prime minister made the comment while inaugurating 50 model mosques along with Islamic cultural centres in different parts across the country.
She inaugurated the mosques joining virtually from her official residence Ganabhaban in the third phase.
UNB adds: Hasina said that the holy month of Ramadan is a time for austerity and all have to pay attention to ensure people can perform their religious activities properly during the month.
"During this month, this kind of profit mongers increase the prices making people suffer. This should not happen," she said.
The prime minister said that the government has already distributed special cards for the low-income group of people.
She mentioned that the government is providing rice at a lower price (Tk 30 per kilogram) after buying that at a higher price.
"Keeping the holy Ramadan in mind, the government will provide Tk 15 per kilogram of rice to an additional one crore people," she said.
She also said that for those who are not eligible for work, the government is providing 20 kilograms of rice each month.
"Like this way we are giving people rice, edible oil, lentils, sugar and other necessary items at a fair price through fair price cards," she said.
She urged the affluent people to extend their assistance to the needy people during Ramadan.
She requested all to remain vigil so that none can adulterate food, resort to hoarding, black marketeering and create an artificial crisis of essential items.
In this connection, she urged Imams to tell about this during the Khutba in the Jummah prayer on Friday.
"Food adulteration, hoarding and black marketeering are illegal jobs and unnecessary give sufferings to people. You should speak on these matters more to the people and you can speak during the Khutba to make people aware regarding this," she said.
The PM said that Islam is the religion of peace and it teaches tolerance towards other religions.
"Even our Prophet (PBUH) teaches us that," she said.
She mentioned Surah Kafirun from the Holy Quran in this regard.
She said that no one gives authority to anyone to punish or kill another person for not following a particular religion.
"Allah gives us lives, and He has the supreme authority to give lives and take lives," she said.
She said that those who believe in Islam genuinely must have tolerance towards other religions,
"In Bangladesh, all religions have the same rights, people will perform their respective religious rituals, and Allah will judge everything (on the Doomsday), He does not give that right to any human, all have to remember that," she said.
Hasina said that killing in the name of Islam only brings bad names to this religion.
"That is very much regretful, this is happening just for a few people, why will we accept that, we believe in peace, tolerance, and the welfare of mankind," she said.
She mentioned that all have to follow the directives of the Holy Quran, Hadith and the Biday Hajj Speech of Hazrat Muhammad (PBUH).
State Minister for Religious Affairs Ministry Md. Faridul Haque Khan and Secretary Kazi Enamul Hassan also spoke at the programme.
Later, she exchanged views with the cross-section of people of Agoiljhara of Barishal, Fulbaria of Mymensingh and Tetulia of Panchagarh.
A documentary on model mosques was screened in the programme.
Earlier, on June 10, 2021, and January 16, 2023, PM Hasina inaugurated 100 model mosques in the first and second phases, out of a total of 564, simultaneously across the country. The project aims at spreading the true messages of Islam for removing misconceptions about the religion.