Road mishaps claim 585 lives in January: Passengers' welfare assoc
BI Report || BusinessInsider
Published: 16:14, 4 February 2023 Update: 21:26, 4 February 2023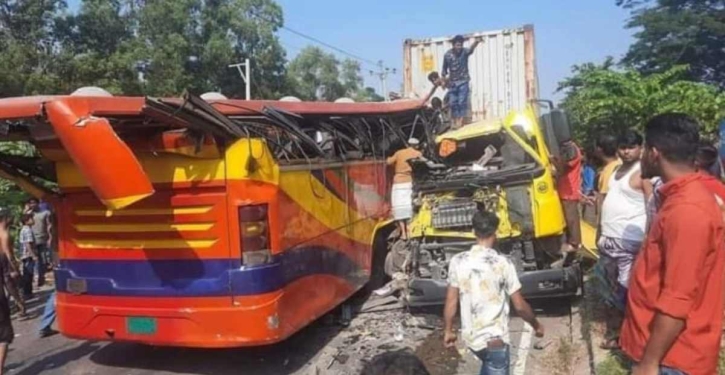 File photo
The incidents of road accidents are on the rise as road crashes claimed around 585 lives across the country in January of the current year, according to Bangladesh Jatri Kalyan Samity.
Forty-six people were killed in 44 railway accidents while 11 were killed and one sustained injury in 13 waterway accidents during the said period, said a report from the passengers' welfare organisation.
The report was published on Saturday after analysing accident reports published in the country's national and regional dailies and online news portals during the period.
A total of 642 people were killed and 978 others injured in 650 in road, water and railways accidents across the country.
Around 205 people were killed and 114 others were injured in some 214 motorbike accidents across the country in the last month.
UNB adds: Among those killed in road accident in January, 206 people were drivers, 109 pedestrians, 35 transport workers, 53 students, 10 teachers, 13 members of law enforcement agencies, 115 women, 62 children, five journalists, one freedom fighter, two lawyers, three engineers and 14 activists of different political parties.
Among those vehicles involved in the accidents were 12.5 percent buses, 24.75 percent pick-up vans, covered vans and lorries, 5.2 percent private cars, jeeps and microbuses, 5.88 percent CNG-run auto-rickshaws, 27.32 percent motorbikes, 14.58 percent battery-run human haulers and 9.92 percent three-wheeler vehicles.
Of the accidents, 29.51 percent occurred on national highways, 38.61 on regional roads and 24.45 percent on roads. Besides, 5.22 percent of accidents occurred in Dhaka city, 1.18 in Chattogram city and 1.01 percent on rail tracks.
The association blamed reckless driving, dangerous overtaking and movement of unfit vehicles, unskilled drivers and helpers, plying of slow-moving three-wheelers and human haulers on highways, using headphones or mobile phones, using drugs, illegal occupation of footpaths, poor traffic management, and violation of traffic rules for the accident and death.