PM to unveil 25 projects worth Tk 1,4316cr in Rajshahi on Sunday
BI Report || BusinessInsider
Published: 13:01, 27 January 2023 Update: 21:46, 28 January 2023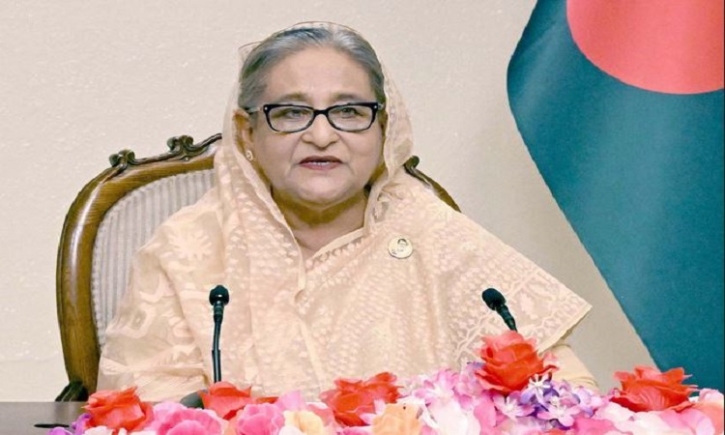 Photo: Collected
Prime Minister Sheikh Hasina is scheduled to inaugurate a total of 25 development projects worth Tk 1,316.97 crore during her visit to Rajshahi on Sunday.
The prime minister will also lay foundation stones of six other projects with an estimated cost of Tk 376.28 crore.
According to the official sources, the implemented projects are: Mural of Father of the Nation Bangabandhu Sheikh Mujibur Rahman.
Rajshahi City Corporation (RCC) has built the mural at the city's C&B intersection at a cost of around Tk 5.03 crore.
BSS adds: The RCC has also implemented other projects namely Sheikh Russel Shishu Park, Flyover on Mohanpur Railway Crossing, four-lane road and road divider with a separate lane for slow moving vehicles from Vadra Rail Crossing to Nawdapara bus terminal, four-lane road and road divider including a separate lane for slow-moving vehicles from Bilsimla railway crossing to City Hat and road widening, development from Kalpana Cinema Hall to Talaimary crossing and carpeting road, drain and footpath construction from Rentur Kharir Arat to Dhalur More via Hi-tech Park and carpeting road construction from Court to Shahartali Club.
The largest mural of Father of the Nation Bangabandhu Sheikh Mujibur Rahman has been built adjacent to the C&B Crossing area in Rajshahi city.
The RCC has constructed the country's largest mural at a cost of around Tk 5.02 crore as part of its Tk 2,993-crore project titled 'Integrated Urban Infrastructure Development in Rajshahi City'.
Height of the mural is 58 feet having a 50-feet height and 40-feet wide Bangabandhu photo in the main part of the mural.
Terracotta works were done on 700-feet space on both sides of the boundary wall. Gallery and landscaping were well-decorated with super granite.
The mural has night vision with decorative electric bulbs.
Rajshahi city mayor AHM Khairuzzaman Liton said the mural inspires people to know about Bangabandhu Sheikh Mujib along with his life, works and laudable contribution and sacrifice to the country's independence.
Construction work of Sheikh Russel Shishu Park is on the final stage in Rajshahi city aimed at opening up a new horizon in recreation of people, particularly the children.
Initiated by the RCC, the park was established on 2.14 acres of land in Chhotobangram area with an estimated cost of around Tk 4.43 crore.
The Roads and Highway Department has constructed a highway from Puthiya to Bagmara with an involvement of around Tk 116.83 crore.
Rajshahi Krishi Unnayan Bank (RAKUB) has implemented upward extension works from the sixth floor to tenth floor of its head office at a cost of around Tk 10.21 crore.
Rajshahi Metropolitan Police (RMP) has built its headquarters building involving around Tk 20.08 crore.
Rajshahi National Heart Foundation Hospital has been established in Laxmipur area at a cost of around Tk 14.46 crore.
A Technical Training Center has been built at Mohanpur Upazila involving Tk 22.18 crore.
Rajshahi Shishu Hospital has also been established at a cost of around Tk 22.90 crore.
Rajshahi Medical College has constructed its administrative building at costs of around Tk 15 crore.
A multi-storey Social Service Complex has been built in Rajshahi involving around Tk 12.78 crore.
A two-storey female hostel building has been constructed on a six-storey foundation at Rajshahi Government Women's College involving around Tk 5.58 crore.
A five-storey academic building of Technical School and College has been built at Charghat costing around Tk 17.20 crore.
A multipurpose building has been constructed at Rajshahi Medical College and Hospital at a cost of around Tk 8.96 crore.
The Civil Surgeon Office has also been established costing around Tk 4.27 crore.
Bangladesh Water Development Board has been implementing two projects to protect the left banks from erosion of the Padma River in Charghat and Bagha Upazilas involving around Tk 694.34 crore.
The Local Government Engineering Department (LGED) has been constructing two roads under its Rural Connectivity Improvement Project involving around Tk 43.96 crore.
A multipurpose auditorium has been constructed at Rajshahi PTI costing around Tk 8.92 crore.
Upazila Muktijoddha Complex Building has been built in Rajshahi city at a cost of around Tk 2.81 crore.
On the other hand, the foundation-laying projects are: Taka 24-cr Information Complex, Tk 8.35-cr Regional PSC Office Building, Taka 62-cr Shaheed Janani Zahanara Imam Girls High School, Tk 53-cr Shaheed AHM Kamaruzzaman Boys High School, Tk 162-cr BKSP Regional Training Centre and Tk 66-cr Rajshahi WASA Building.