BAPEX finds new gas reserves in Bhola North-2
BI Report || BusinessInsider
Published: 20:22, 23 January 2023 Update: 21:35, 23 January 2023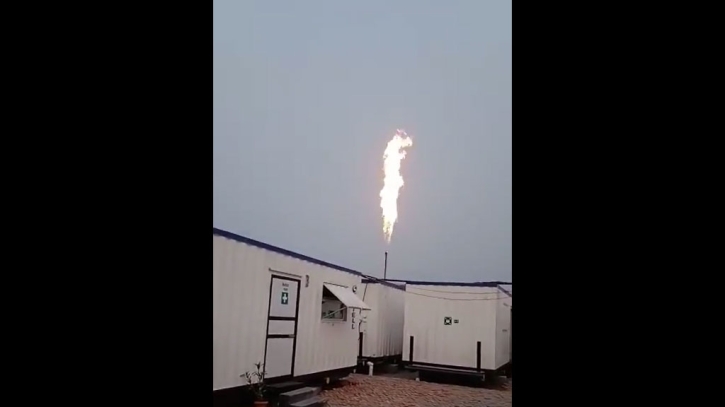 Screenshot taken from Facebook video.
The state-run gas exploration and production company BAPEX has found a new gas reserve in the Bhola North-2 field.
Ministry of Power, Energy & Mineral Resources, Bangladesh informed the matter through a press release on Monday.
"It will be possible to extract 20 million cubic feet of gas daily from the well," the release said.
The ministry also made a post on its verified Facebook page regarding the matter where it congratulated all BAPEX colleagues involved in the drilling.
The drilling works started at the Bhola North -2 Gas Filed on December 5 last year and ended on January 17 this year after reaching 3,428-metre depth to the underground ground, adds UNB.
"Today (Monday) the discovery was made after completion of the Drill-Stem Testing (DST)," the ministry said in a press release.
The DST in exploration wells is the last step of oil and gas exploration.
"The actual amount of gas production will be determined after completion of the final production testing. But Bapex is hopeful that the field would produce 20 MMCF per day," said the release.
State Minister for Power State Minister for Power, Energy, and Mineral Resources Nasrul Hamid thanked BAPEX for the new gas find and said the gas exploration has to continue as per planning.
The state-owned Petrobangla has plans to drill a total of 46 explorations, development and work-over wells from 2022 to 2025.
Nasrul Hamid directed the officials of his ministry and subordinate bodies to further intensify the ongoing gas exploration and production activities, saying that the government has been working to ensure the energy security of the country.
He said efforts have been continuing to sign short and long-term contracts with oil and gas-producing countries like Qatar, Saudi Arabia, United Arab Emirates and Brunei alongside activities to increase local gas exploration.
Earlier on November 3 last year the ministry made a similar announcement about the discovery of new gas in the Bhola gas field.
At that time, State Minister for Power, Energy, and Mineral Resources Nasrul Hamid announced a new structure of 239 billion cubic feet (BCF) of natural gas from the exploration well No-Togbi-1 under the Bhola gas field.
"But this will take one-and-a-half to two years to start producing gas from the well and supply it to the national gas network", he had told reporters while sharing the "good news" at a press briefing at his ministry conference room at that time.