PM unveils book on Bangabandhu govt's initiatives
BI Report || BusinessInsider
Published: 18:43, 23 January 2023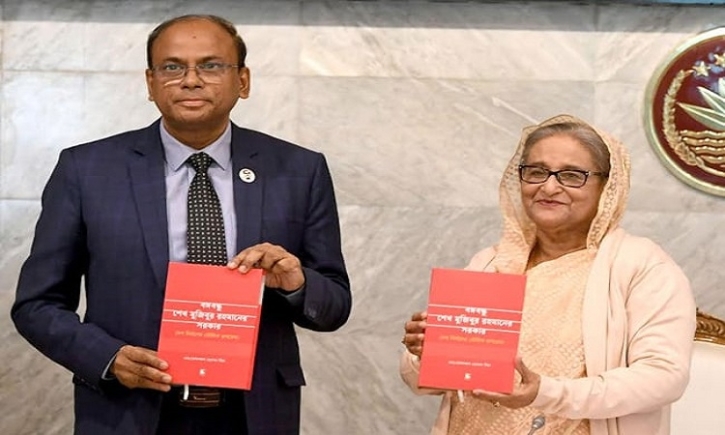 Photo: Collected
Prime Minister Sheikh Hasina on Monday unveiled a book titled Bangabandhu Sheikh Mujibur Rahmaner Sarker: Desh Nirmaner Moulik Ruprekha, featuring the Bangabandhu government's initiatives and policies taken to rebuild war-torn Bangladesh following its independence in 1971.
The premier unveiled the book during the Cabinet Meeting held at the Prime Minister's Office while Sheikh Hasina herself wrote the preface of the book written by her Principal Secretary Mohammad Tofazzel Hossain Miah.
BSS Adds: The writer highlighted 47 issues of the government of Father of the Nation Bangabandhu Sheikh Mujibur Rahman that included administrative system, governance and contemporary challenges, cabinet, budget, economy, foreign policy, planning, development, agriculture, cooperatives, second revolution, defence, infrastructure and communications, women development, trade policy, legislation, civil service, education and human resources in the book.
Tofazzel wrote the book in the light of extensive research after analyzing the then government reports, national archive, news of different national and international newspapers, interviews, more than 100 of books and reports of different ministries and divisions.
The writer mentioned all the references in the book from where he took information for writing the 492-page book.
Tofazzel clarified a basic outline of the Bangabandhu government in the book, where Bangabandhu's pathway to rebuild Bangladesh was reflected.
It is hoped that this research-based book will serve as a guide for the present and future researchers, thinkers, economists, policy makers and political leaders to realize Bangabandhu's dream of building the 'Sonar Bangla'.
The price of the book has been fixed at Taka 1495, which is available at Pathak Samabesh outlets at Shahbagh and Kataban in the city.