Govt working to build developed nation mainstreaming women: PM
Published: 21:51, 22 January 2023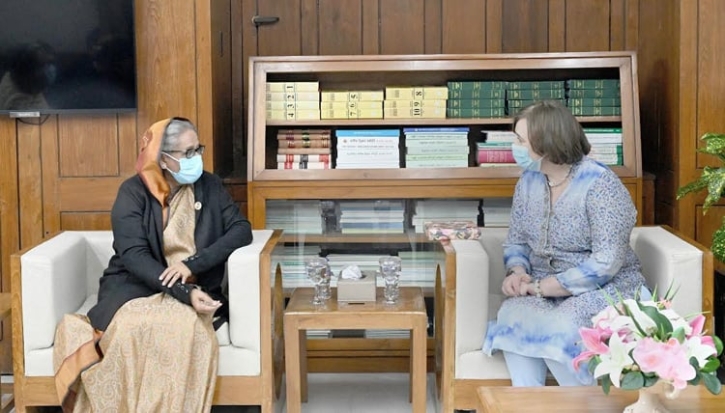 Photo: Collected
Prime Minister Sheikh Hasina on Sunday said her government will turn Bangladesh into a developed nation taking the country's women along with it.
"In 2026 Bangladesh will get the final recognition as a developing nation, and we will advance further. We are planning all our development programmes keeping that in our mind, we will advance more by taking the womenfolk with us," she said.
The premier said this while the representative of Chattagram-based Asian University for Women called on her at her Sangsad Bhaban office.
Chancellor of the university Cherie Blair led the team, PM's speech writer M Nazrul Islam told reporters.
He said that the PM mentioned that the prime task of her government is to ensure overall development of the country and provide food, education and healthcare to all.
In this regard, she asked the Asian University for Women representatives to provide the students an educational curriculum which will make them entrepreneurs and skilled to face the challenges of the future.
"Not only the general education, provide the education that will make them skilled instead of creating unemployment," she said.
Sheikh Hasina mentioned that she donated the land for this university.
"Women education is essential for development for any country," she said.
She briefly described various programmes of her government during her tenures.
While the issue of Afghanistan came during the meeting, the prime minister said that there is no scope to stop the education for the women in the name of Islam.
"Islam was started by a woman (Hazrat Khadiza), and Islam has never ever been an obstacle for women's education. Stopping education for them is not acceptable at all," she said.
She also mentioned that Islam always patronises the equal rights of man and woman.
In this regard, she said that she also faced serious opposition regarding the women leadership while she came into politics.
Regarding the Afghanistan issue, she said that the present Afghanistan government forcibly stopped education for the women.
"The whole world is witnessing this, no one is taking any step against it," she said.
She mentioned that she devoted her life to the development of the country and its people.
Talking about the Rohingya issue, the prime minister said that the government is providing education to Rohingya children in their own language.
Education Minister Dipu Moni, Prime Minister's Principal Secretary M Tofazzel Hossain Miah, Foreign Secretary Masud Bin Momen and AUW Vice Chancellor Rubana Huq were present.