BNP does politics of killing through arson attacks: Hasan
BI Desk || BusinessInsider
Published: 21:10, 7 December 2022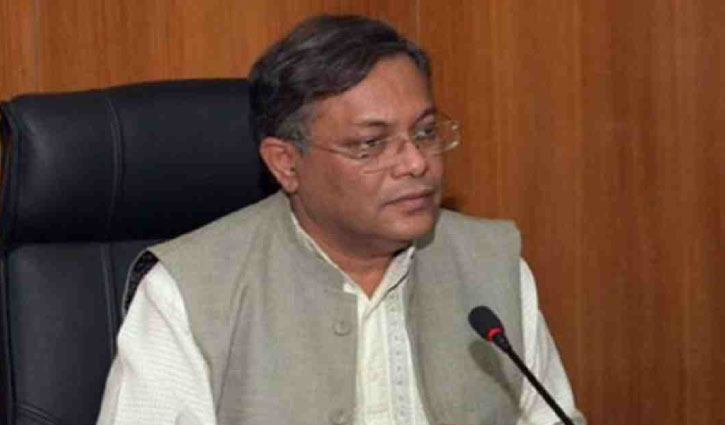 Information and Broadcasting Minister Dr Hasan Mahmud. Photo: Collected
Information and Broadcasting Minister Dr Hasan Mahmud on Wednesday said BNP does politics of killing people through arson attacks and they don't stand beside the countrymen during any disaster.
"BNP is a migratory bird as the party appears voting times. The party was not beside the countrymen during the Covid-19 pandemic or any other calamity. They do the politics of killing through arson attacks," he said.
The minister was addressing a public meeting before the address of Awami League President and Prime Minister Sheikh Hasina at Cox's Bazar Sheikh Kamal International Cricket Stadium here organised by Awami League Cox's Bazar district unit.
Hasan said BNP called a rally on December 10 in Dhaka city and their choice is street so that they can set fire on vehicles and public properties, reports BSS.
The minister said Bangladesh is marching ahead indomitably and the country has changed in the last 14 years. But, BNP could not see the development as they cannot tolerate the progress, he added.
He said the government of Prime Minister Sheikh Hasina believes in development. The countrymen will vote for Awami League again in the next general elections to take the development ahead, said Hasan, also AL joint general secretary.
He said the scenario of Cox's Bazar has changed as a number of development activities have taken place. The government of Prime Minister Sheikh Hasina has upgraded Cox's Bazar Airport to international standards, said Hasan.
AL General Secretary and Road Transport and Bridges Minister Obaidul Quader, AL Presidium Members Engineer Mosharraf Hossain, Jahangir Kabir Nanak and Abdur Rahman, Joint General Secretaries Mahbubul Alam Hanif and Bahauddin Nasim,
Organising Secretary Abu Saeed Al Mahmud Swapan, Religious Affairs Secretary Advocate Sirajul Mostafa, AL Cox's Bazar district unit general secretary Mujibur Rahman, Saimum Sarwar Komal, MP, Asheq Ullah Rafique, MP, and Jafar Alam, MP, among others, addressed the rally.