Evaly issues discounted coupons anew enraging commerce ministry
Asif Showkat Kallol || BusinessInsider
Published: 19:19, 2 November 2022 Update: 20:28, 2 November 2022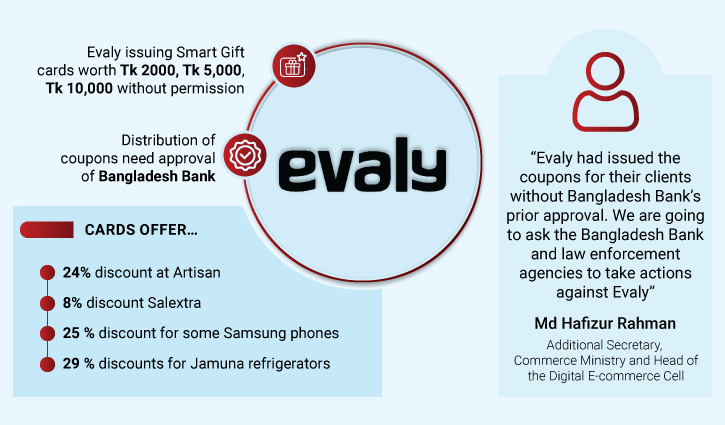 Infographic: Business Insider Bangladesh
The ministry of commerce is going to ask Bangladesh Bank and law enforcement agencies to take necessary actions against controversial e-commerce platform Evaly as it is offering its clients various discounted coupons without prior permission from the respective authorities.
Usually, any sale outlet needs prior approval of the Bangladesh Bank to distribute discounted coupons among the clients, officials said.
In marketing, a coupon is a ticket or document that can be redeemed for a financial discount or rebate when purchasing a product.
Additional secretary to the commerce ministry and head of the Digital e-commerce cell Md Hafizur Rahman told Business Insider Bangladesh that Evaly had issued the coupons for their clients without Bangladesh Bank's prior approval.
"We are going to ask the Bangladesh Bank and law enforcement agencies to take actions against Evaly," Hafizur said.
He said Evaly has violated e-commerce operation directives rules by issuing the coupons and the central digital e-commerce cell on November 1 sent a letter to the chairman of Evaly board in this regard.
He also said the newly appointed chairman Shamima Nasrin did send a letter to the commerce ministry seeking advice to run the company with a newly formed board.
A Facebook page of Evaly is currently showing that they are issuing Smart Gift cards worth Tk 2000, Tk 5,000 and Tk 10,000 respectively to be used in a year from purchase, especially for O/CODe Companies.
A smart grift card of Tk 10,000 provides 24% discount for Artisan while Iphone sale shop Salextra provides 8 per cent discount for Evaly clients. Evaly clients are receiving a 25 % percent discount for some Samsung mobile phones. They have been offered 29 % discounts while buying Jamuna refrigerators.
Meanwhile, Evaly co-founder and chairperson of the e-commerce platform, Shamima Nasrin, began a new campaign for selling products from October 15. As approached by this correspondent on Tuesday to learn about the discount coupons, she did not pick up the mobile phone.
Last month the High Court formed a five-member Evaly Board of Directors to manage the company under the close supervision of the government to protect the interests of the buyers as well as the sellers.
Mohammad Sahab Uddin Shipon of e-Cab, and Dr Kazi Kamrun Nahar, Deputy Secretary of the Ministry of Commerce have been incorporated into the board.
October 26, Dhaka Cyber Tribunal issued an arrest warrant for Shamima Nasrin, the chairperson of Evaly, in a case filed under the Digital Security Act.