STS Group makes University of London degree available in Bangladesh
Published: 17:59, 27 October 2022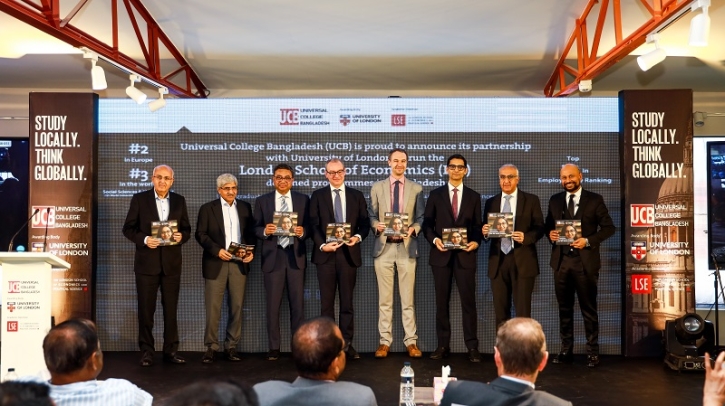 Photo: Collected
For the first time, an institution in Bangladesh will teach University of London programmes academically directed by the London School of Economics (LSE).
The disclosure comes after the University of London, one of the world's leading universities, and the world's oldest provider of degrees through distance learning, agreed to partner with the Universal College Bangladesh (UCB), a concern of STS Group.
With this announcement, UCB has become the first ministry of education approved international education provider in the country.
With 100 percent curriculum and testing from LSE, the offered courses at UCB initially include BSc Business and Management, BSc Finance and BSc Accounting and Finance.
Dipu Moni, minister of education, Tipu Munshi, minister of commerce, Mohibul Hasan Chowdhury, deputy minister of education, Robert Dickson, High Commissioner of UK to Bangladesh and Professor Wim A Van der Stede, Dean, London School of Economics Extended Education attended the launch of the programme at the UCB campus in Gulshan Avenue on Thursday.
"This remarkable new phase of international in-country education has been possible for STS Group due to the blessing and support of the Prime Minister of Bangladesh," said Bob Kundanmal, chairman of STS Group.
PM's foresight in permitting foreign education is one of the stellar pillars of her vision to assist Bangladesh to continue its high-growth trajectory and achieve the 2041 high-income nation goal, hand in hand with sustainable development goals," he said.
The plan showcases how global affordable education in the country would not only provide invaluable options to the more than 10 lakh students graduating from schools every year but also – and most importantly – allow the girl child of the family parity in access to such world-class options right at their doorstep, said Kundanmal.
Universal College Bangladesh is a part of STS Group, Bangladesh's largest private sector conglomerate in healthcare and education, operating the nation's leading brands such as Evercare Hospitals, DPS STS Schools and International School Dhaka (ISD), apart from an upcoming keystone international school project.
Last year, UCB introduced Monash pathway programs in Bangladesh wherein students could undertake their Monash degree journey right here in Bangladesh.
These in-country international programmes bring other significant advantages. Zarif Munir, senior managing director of Boston Consulting Group, and Director at UCB, said, "Such programmes can potentially save invaluable dollar reserves for a nation that annually repatriates close to $4.5 billion on outward tuition fee remittances (for Bangladesh students studying abroad".