Stay alert to maintain peace during Durga Puja: Quader
BI Report || BusinessInsider
Published: 21:36, 3 October 2022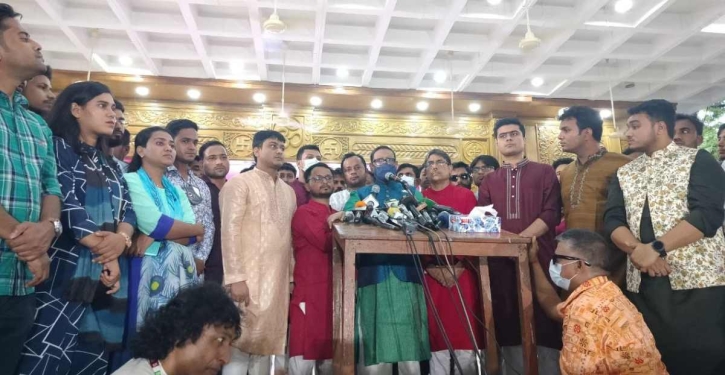 Photo: Business Insider Bangladesh
Awami League General Secretary Obaidul Quader on Monday asked everyone involved to remain vigilant to maintain peace and harmony during the ongoing Durga Puja.
"A vested quarter is engaged in attacking the Hindu community to pass the blame on the government," he said while visiting Jagannath Hall puja mandap in Dhaka University on the Maha Ashtami day of Durga Puja.
Urging all to remain alert, Quader said a malicious force seeks to imply that minorities are not protected by the Awami League regime.
"Perpetrators will not be spared if they carry out attacks on Hindu temples, houses, and puja mandaps," he said.
Quader, also road transport and bridges minister, said as the national elections are approaching, the vested quarter, by conducting attacks on the Hindu community, wants to prove that the minorities are not safe under the Awami League government.
"So, remain alert against the evil force," he said.
Asking the BNP not to do politics over the Durga Puja festival, Quader said: "We want peaceful elections, let religious activities be done peacefully. The opposition party plays a part in addition to the ruling party in keeping the religious festival peaceful. You have a responsible role to play too," Quader said.
Prime Minister's Special Assistant and Awami League Office Secretary Barrister Biplab Barua, Provost of Jagannath Hall Dr Mihir Lal Saha, Bangladesh Chhatra League President Al-Nahean Khan Joy, and General Secretary Lekhak Bhattacharjee, General Secretary of the Dhaka University Chhatra League Saddam Hussein, Jagannath Hall BCL President Kajal Das and General Secretary Atonu Barmon were, among others, present.