Not BNP, AL always stands by countrymen during disasters: Hasan
BI Desk || BusinessInsider
Published: 21:35, 2 October 2022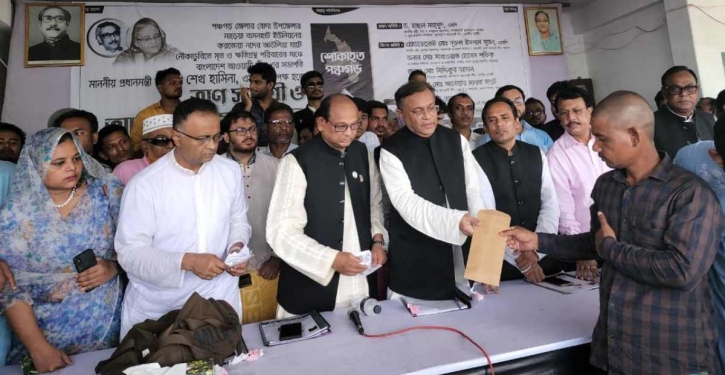 Photo: Collected
Information and Broadcasting Minister Dr Hasan Mahmud on Sunday said the Awami League as the party of commoners always stands by the countrymen during any disaster but the BNP does not do so.
"The BNP doesn't stand by the people during any disaster, rather they make fun at the death of people in disasters and calamities," he said.
The minister stated these while addressing a programme for distribution of relief and financial assistance among the family members of boat capsize victims' at the Karatoya River on behalf of Prime Minister Sheikh Hasina at Marea Bamonhat Union Parishad auditorium in Boda upazila of Panchagarh, reports Bangladesh Sangbad Sangstha.
Railways Minister and Awami League (AL) district unit President Advocate Md Nurul Islam Sujan addressed the programme as special guest with AL Relief and Social Welfare Secretary Sujit Roy Nandi in the chair.
Hasan said, "We came here on behalf of our party. But, there is an opposition party on the street. The home of Mirza Fakhrul Islam Alamgir is located in Thakurgaon, which is nearing to Panchagarh district. And he needs one and half hours to go and return from there (Thakurgaon). But, he didn't come till now. I know that he will come after we go back. He is giving different statements sitting in Dhaka and they (BNP) only do it. But, the party (BNP) is not beside the people during any disaster."
He said, "I'm from Chattogram, also a man from the river and sea. Just after the catastrophic hurricane in 1991, incumbent Prime Minister and the then opposition leader Sheikh Hasina had told parliament that thousands of people died. But, Begum Zia had told the House that so many people didn't die as much as it was thought. They (BNP leaders) don't stand by the people during any disaster."
He said this is the difference between Prime Minister Sheikh Hasina and BNP leader Begum Khaleda Zia. The Awami League always stands by the countrymen, said Hasan, also Awami League joint general secretary.
But, the minister said, they (BNP leaders) would come during the votes.
He said AL President and Prime Minister Sheikh Hasina has phoned railways minister, state minister for relief and state minister for religious affairs over the boat capsize and gave directives though she is abroad for an important visit.
Everyone came here as soon as possible while every family of victims was received Tk 20,000 from district administration, Tk 25,000 from the religious ministry, Tk 50,000 from disaster and relief ministry, Tk 5,000 from Nurul Islam Sujan and Tk 5,000 from Red Crescent Society, he added.
Hasan prayed for eternal salvation of the departed souls and conveyed deep sympathy to the bereaved family members.
He said the leaders and activists of Awami League have taken part in the rescue operation along with the administration including police, upazila administration and fire brigade, he added.
He extended thanks to all who took part in the salvage mission.
AL Boda upazila unit president Wahiduzzaman Suja, general secretary Faruque Alam, AL Marea union unit president Abu Ansar Rezaul Karim Shamim, general secretary Sushil Barman and Sree Sree Janmanstami Udjapan Parishad central committee president Sukumar Chowdhury, among others, were present in the programme.