Bashundhara, Square, Pran, ACI among 36 facing govt's 'market manipulation' lawsuit
BI Report || BusinessInsider
Published: 20:27, 26 September 2022 Update: 22:17, 26 September 2022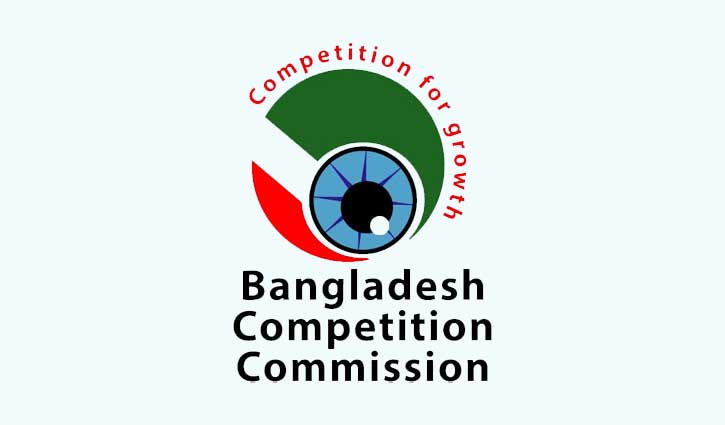 BCC logo
The Bangladesh Competition Commission (BCC) has released the complete list of 36 individuals and businesses that are being sued for their alleged role in creating instability in commodity prices.
The commission had filed a total of 44 cases against the 36 persons and organisations on Thursday but only released the names of 11.
The full list includes the country's top business conglomerates including Bashundhara, S Alam, Square, PRAN, ACI, Akij, City Group and Meghna.
The commission's specific allegations against these companies and traders are that they have created "instability through abnormal price rise and artificial crisis" of rice, flour, flour, eggs, broiler chicken and toiletries products in the market.
The first hearing of the cases took place on Monday where Kazi Farms defended itself against the accusation of manipulating broiler chicken prices.
All 36 companies and individuals have been sent letters to appear before the court operated by the commission in phases asking them to present their agreements, Abdus Sabur, secretary of the BCC, told Business Insider Bangladesh.
If they are proved innocent during the hearing they will be acquitted. Otherwise, they will have to face legal action under the departmental act," Sabur said.
The cases have been lodged under sections 15 and 16 of the Competition Commission Act.
Section 15 states that if anyone creates a monopoly and influences the market, the responsible person or company will be brought under the purview of punishment.
Section 16 states that if a product price is manipulated by exploiting the opportunity to be at the top in the market or production of a product it is to be considered a punishable crime.
According to the act, if found guilty a company will be fined a maximum of 10 percent of its last three years' turnover average.
Recent hikes in commodity prices:
People have been suffering immensely for the last few months as the prices of most of the essential items including rice, oil, wheat flour, egg, and chicken and toiletries products went up in the market abnormally.
The government and its different agencies have been holding a series of meetings with traders, manufacturers, and marketing companies to keep the prices of essential products at a tolerable level but failed.
Recently while talking to a TV live programme, AHM Shafiquzzaman, director general of the Directorate of National Consumers' Right Protection (DNCRP), underscored the need for legal action against the market manipulators and warned that the government will go for tough action immediately against them.
Meanwhile, the prices of rice have been high in the market for several months. And the price of per kilogram coarse rice went up to Tk 55 and the price per kilogram of fine rice rose to Tk 85.
But the trend is seen declining a little bit in the last two weeks as the government has already undertaken some food-friendly programmes including OSM.
The list:
For manipulating rice prices, cases have been filed against Square Food and Beverage chairman, ACI chairman, Bangladesh Edible Oil managing director, BRAC Seed and Agro Enterprise chairman/MD, Pran Foods CEO/MD, and City Group MD.
For the same issue, owner of Rashid Agro Food Product of Kushtia Abdur Rashid, Jahura Auto Rice Mill of Dinajpur owner Abdul Hannan, Belcon Group of Naogaon owner Belal Hossain, Erfan Group of Chapainababganj owner Erfan Ali, Kibria Agro Industry of Bogura Director Golam Kibria, Mofiz Uddin Automatic Rice Mill of Naogaon owner Tawfiqul Islam, Alal Agro Food Product Ltd of Bogura owner Alal Ahmed, Nurjahan Agro Food Industries of Brahmanbaria owner Zahirul Islam, Khan Auto Rice Mill of Bogura owner Putu Mia, M/S Dada Rice Mill of Kushtia owner Arshad Ali, Majumder Auto Rice Mill of Naogaon owner Brozen Majumder, City Auto Rice and Dal Mills of Narayanganj and Mabco Rice Industries of Naogaon chairman/MD, have been sued.
Meghna Group MD, Akiz Group chairman, Bashundhara Group MD, ACI Group MD, TK Group MD, Nurjahan Group MD and chairman, S Alam Refined Industry MD and City Group MD have been sued for creating volatility in the flour-flour market.
CP Bangladesh MD/CEO, Paragon Poultry MD, People's Feed owner, Diamond Egg Ltd MD, Kazi Farms Group MD Kazi Zahedul Hasan and Egg Traders Association President Amanat Ullah have been sued for rigging the egg market.
Kazi Farms Group MD Kazi Zahedul Hasan, Saguna Food and Feeds director, Alal Poultry and Fish Feed MD/CEO, Nourish Poultry and Hatchery director, Paragon Poultry MD, and CP Bangladesh president have been sued for manipulating the poultry market.
Cases have also been filed against rigging toiletries prices. They include ACI chairman, Unilever Bangladesh MD, Square Group chairman/MD, Kohinoor Chemical Company and Keya Group MD/chairman.