DB arrests 5 over robbing a man of Tk 20 lakh on DU campus
BI Desk || BusinessInsider
Published: 18:30, 22 September 2022 Update: 18:38, 22 September 2022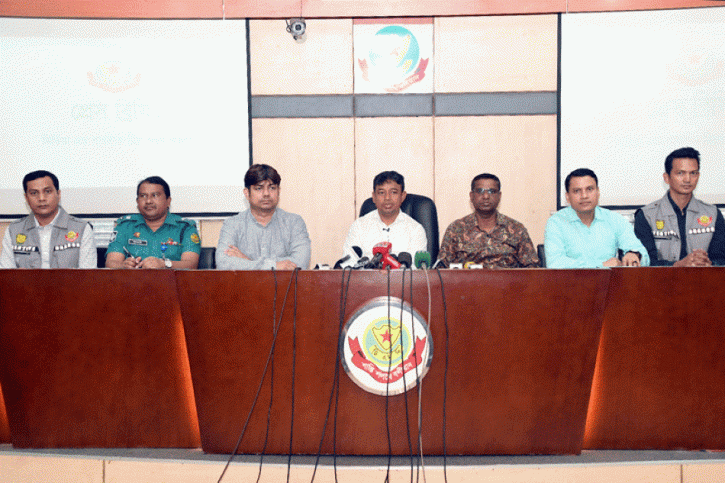 DMP Additional Commissioner and DB Chief Mohammad Harun-or Rashid and other DB officialsat a press conference. BSS photo.
A Detective Branch team of Dhaka Metropolitan Police has arrested five suspects in connection with robbery of Taka 20 lakh on Dhaka University campus.
The arrested are - Golam Mostafa Shaheen alias Shaheen Police, Md Shahadat Hossain, Syed Monir Al Mahmud, Md Rubel Islam, Md Zakir Hossain.
DMP Additional Commissioner and DB Chief Mohammad Harun-or Rashid said on Wednesday the DB team arrested them from across different areas of the country.
Addressing a press briefing at DMP Media Centre, he said the DB Ramna zone carried out a special operation in Uttara, Kalabagan and Siddhirganj Thana area of Narayanganj district and arrested five suspects including the mastermind in connection with the looting.
"On September 3, a gold merchant was carrying Taka 20 lakh with him and was heading to New Market from a Tantibazar location on a motorbike. On way to New Market, two robbers followed the businessman on another bike. As soon as the man arrived in front of the main gate of Dhaka University Club at 3.00 pm, the robbers' accomplices barricaded the victim's motorcycle with a jeep," he said.
Harun said then three robbers got down from the car and identified themselves as members of the law enforcement agencies and grabbed the victim and took him into the car. Later, the robbers tied the victim with a towel, handcuffed him and hit on his face.
"The robbers also took away Taka 20,00,000 and mobile phone from the victim. Later, the robbers left the victim on Dhaka-Mawa Expressway and fled away," the DB chief said.
He said that following the victim's complaint, a case was registered with Shahbagh police station.
According to the case details, the DB recovered a Prado jeep used in the robbery, Taka 1,10,000, a walkie-talkie, a pair of handcuffs, two black-coloured jackets, a steel stick, a hammer, a plyer, a sparker (like a pistol) and a lethal weapon.
The arrested persons were sent to the court seeking remand.