Rains to drench Bangladesh in 24 hours
Published: 15:38, 21 September 2022 Update: 15:42, 21 September 2022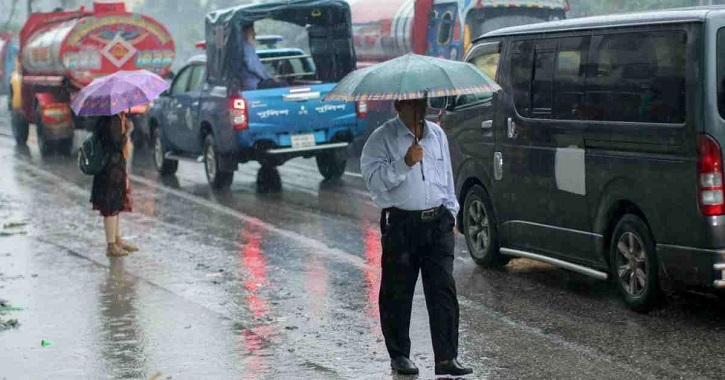 Commuters walk in the rain unable to find transport
More rains are likely to drench Bangladesh in the next 24 hours, with the monsoon being fairly active over the country and moderate over the North Bay, the weather department has said.
According to the regular weather bulletin, "Light to moderate rain or thundershowers accompanied by temporary gusty wind is likely to occur at most places over Rangpur, Mymensingh and Sylhet divisions; at many places over Rajshahi, Dhaka, Barishal and Chattogram divisions, and at a few places over Khulna division with moderately heavy to heavy falls at places over the country."
Day and night temperatures may fall slightly over the country.
The monsoon axis runs through Bihar and West Bengal to Assam and across the northern parts of Bangladesh.
One of its associated troughs extends up to the North Bay. Monsoon is fairly active over Bangladesh and moderate over the North Bay.
The Met Office recorded the highest 155mm rainfall in Tetulia in the last 24 hours till 9 am.
UNB Sylhet Correspondent reports:
Moderately heavy to heavy showers are likely to occur in Sylhet district and it may continue for the next four to five days due to active monsoon," said Tariqul Newaz Kabir, a meteorologist with Bangladesh Meteorological Department.
AKM Niloy Pasha, an engineer of the Sylhet Water Development Board, said that if rains occur in India there is a possibility of an onrush of water from the hills, which may lead to further flooding.
Hundreds of villages are still underwater, rendering thousands stranded. Many people have taken shelter in different temporary homes and high roads in the district.
A number of houses and roads in Balaganj, Osmaninagar, Fenchuganj, Jakiganj, Beanibazar, Jointapur and Goainghat upazilas of the district are still under water.