Parties must ensure members are trained, embrace healthy politics: Speaker
BI Report || BusinessInsider
Published: 17:12, 10 August 2022 Update: 17:13, 10 August 2022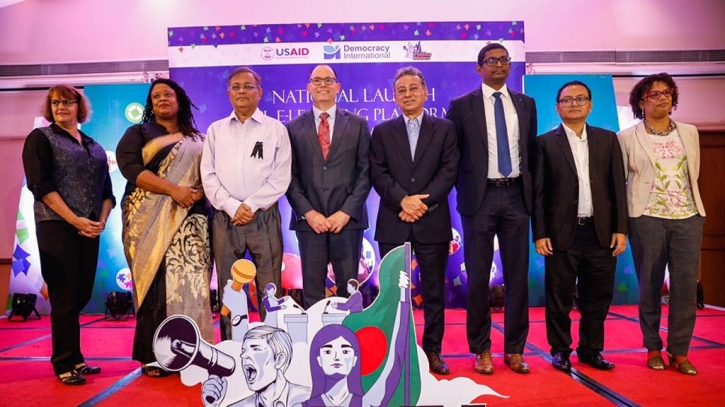 Photo: Courtesy
Political culture must improve by ensuring political party members are well trained and driven first by their responsibility to citizens and understand and embrace healthy politics, Dana L Olds, Chief of Party, SPL, Democracy International, said on Wednesday.
Olds was one of the speakers at the launching event of an e-learning platform called "Politics Matters" – www.politicsmatters.com.bd.
The US Agency for International Development's (USAID) Strengthening Political Landscape project, implemented by Democracy International, launched the platform to bring political knowledge and skills to the fingertips of Bangladeshi political leaders and enthusiasts across the country.
US Ambassador to Bangladesh, Peter Haas joined Information and Broadcasting Minister Dr Hasan Mahmud, Bangladesh Nationalist Party (BNP)'s Standing Committee Member Amir Khasru Mahmud Chowdhury, and Jatiyo Party's Presidium Member Barrister Shameem Haider Patwary to launch the new "Politics Matters'' platform.
US Ambassador Peter Haas said, "From the election commission to the government, from the media to law enforcement, from civil society to political parties, everyone has an important role to play.
"If any one of them fails to fulfil their responsibility – or if any one of them prevents another from fulfilling their responsibility, free and fair elections become nearly impossible,'' Haas said.
At the event, young and mid-level political leaders shared their experiences and recommendations to maximise the Politics Matters website for the benefit of their parties.
Politics Matters offers the following eight courses: Democracy and Elections, Conflict Mitigation, Political Campaign, Community Advocacy and Political Parties, Women's Political Empowerment, Effective Practices for Political Parties, Political Leadership Development, Training of Trainers.
Each of these modules includes animation films, infographics, and quizzes along with reading materials to assist learning. Using this online platform, political leaders can develop their political skills at their own pace.