Long-distance bus operators hike fares flouting govt's estimation
Ainul Haque Royal || BusinessInsider
Published: 20:27, 6 August 2022 Update: 20:31, 6 August 2022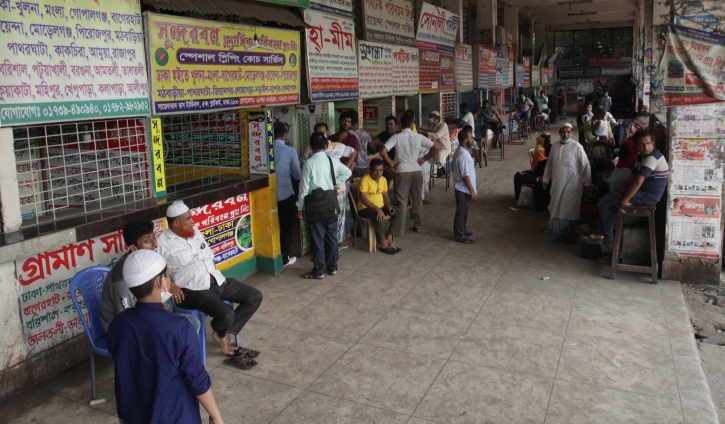 Photo: Business Insider Bangladesh
Long-route bus operators have hiked fares much higher than what the government had estimated.
Hanif Paribahan increased tour fare by Tk 200 to Tk 1,400 for its AC buses plying along Dhaka-Chattogram route, a staff of its Panthapath counter told Business Insider Bangladesh, wishing not to be named.
However, the energy ministry's analysis showed that the fare should have increased by Tk 0.29 per kilometre or Tk 77 per ticket.
Besides, on the Dhaka-Khulna route, the operator has already increased fare by Tk 200 to Tk 1400 for AC buses. It also hiked fares by Tk 90 to Tk 690 for non-AC buses on the same route.
While talking to the reporter, a staff member of National Travel's counter at the Technical intersection, said they have not increased the bus fare on Dhaka-Rajshai route yet.
Responding to a query, he said the owner of the company has not yet given any instruction to increase bus fare.
The driving distance between Dhaka and Rajshahi is 257 kilometres and a passenger will have to count an extra Tk 74 according to the government's proposed fare chart.
Earlier in the day, the Ministry of Power, Energy and Mineral Resources issued a news release hinting that the long distance tourists are likely to pay Tk 2.82 per km considering a hike of Tk 0.29 per kilometre or 16.22 percent.
At present, the fare on long-distance buses with 52 seats is Tk 1.8 per kilometre.
The ministry handout also hinted that the bus fares are likely to increase by Tk 0.29 per kilometre to Tk 2.43 in metropolitan city areas.
The fare in the country's city areas may increase by 13.16 percent per kilometre against the backdrop of the fresh price hike of fuel oils announced by the government on Friday night.
Apart from this, the transport fare per kilometre on the waterways is likely to increase to Tk 2.62 per kilometer or 19.18 percent against the present fare of Tk 2.19.
The Energy and Mineral Resources Division on Friday increased diesel and kerosene prices by Tk 34 per litre to Tk 114 and octane and petrol prices by Tk 46 per litre to Tk 135 and the new prices took effect at midnight on Saturday.
Economist and social activist and executive Chairman of Brac, Dr Hossain Zillur Rahman told Business Insider Bangladesh that prices of fuel oil have multi-dimensional effects on the country's economy.
"The government had alternatives to price hike of fuel oils but they did not pick that up," he added.
Rahman said the government should extend all assistance to the low income people as they will be hit hard by the oil price spiral.