Migrants not entitled to health services abroad even in emergency
Md Owasim Uddin Bhuyan || BusinessInsider
Published: 18:33, 5 August 2022 Update: 22:16, 5 August 2022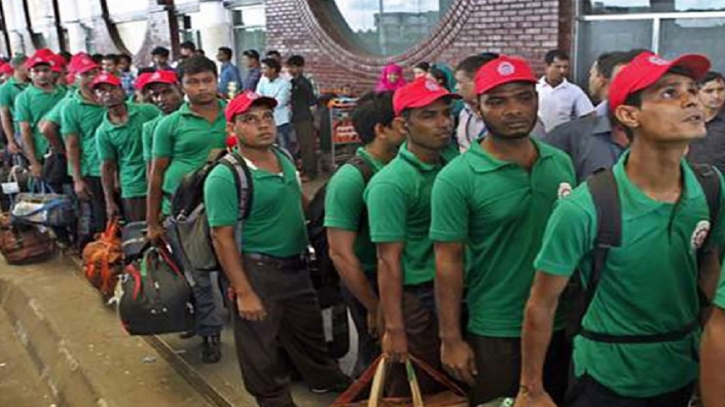 Representational collected image
Bangladeshi migrant workers seldom have access to basic healthcare and workplace safety in their host countries, sources relating to migration, said.
The workers do long hours with low wages as their very high migration cost is overlooked by authorities.
Such poor workplace safety and no health care often take a serious toll on their health, they added.
Hundreds of migrant workers are returning to Bangladesh with multiple ailments and mental health conditions. Some of them are so unfortunate that they are dying as employers do not provide crucial health care needs.
Migration experts, however, suggest that the government adopts standard labour agreements with the host nations, introduce health cards for the migrants under joint collaboration of government and recruiting agencies and bring them under health insurance coverage.
They emphasised on taking necessary steps to create massive awareness, ensure proper training of the outbound workers especially, train them to get used to foreign foods and reduce cost of migration in a bid to address issues of migrants' health.
Case Study-1
Enamul Haque (Pseudonym), son of Amjad Haque (pseudonym) and Kobori Begum (pseudonym) are residents of Bagrapur village under Kotwali police station of Cumilla district. Enamul is 44 years old, and is currently living with his wife, 2 sons and a daughter.
In 2009, Enamul migrated to Oman to work in a Bangladeshi-owned tailoring company located in Salalah city. Prior to this, he had a small tailoring shop in his village. He paid Tk 350,000 as the cost of migration. He was promised a salary of Tk 50,000 with additional allowances for food and accommodation in Oman. Upon reaching there he was paid Tk 40,000 with no additional allowances. For 11 long years as a tailor, his salary never increased.
Enamul had to work for 12 hours a day with a 1-hour break in-between. But the volume of work that he was assigned every day was difficult to complete within the day.
If the work remained incomplete, his employer would rebuke him and behave rough. His job contracts only mentioned duties of cutting cloth for tailoring. Also, his employer made him unload huge volumes of heavy materials for his tailoring business, as a result of which his health started deteriorating.
After working for 3 years, he started having chest pains. He requested his employer to accompany him to any hospital and he obliged. The doctors in hospital told him he needed a surgery that cannot be done in Oman. They told him to go to either Madras or Bangladesh and get the surgery done.
Enamul had to stay in the government hospital of Oman for 2-3 days and he was charged around Tk 90,000 for carrying out various tests. The employer did not bear the expenses.
As the doctors in Oman refused to treat him, Enamul came to Bangladesh for surgery. At this time his employer bought him an air ticket which was the only expense he made for his employee.
In Bangladesh, Enamul had gone through an angiogram and the doctors told him that he needed to get an annuloplasty to place a ring in his heart. He got the surgery in a Bangladesh government hospital at the cost of Tk 1.5 lakh for which he had to sell his land. When he recovered he went back to join his job in Oman.
After having the surgery, Enamul was doing well and was able to work for many years without any problem. However, it was late 2019 when his employer made him work both day and night shifts, meaning he was working 18 hours a day. He was getting paid for working overtime but it took a serious toll on his health.
After working incessantly long hours for 15 days, he had a stroke. His well-wishers took him to a private hospital and admitted him there. He was on life support for 2 days and it cost him Tk 70,000. His employer came to see him once and paid a little money.
When Enamul asked for more money, his employer rebuked him and told him to go back to Bangladesh.
Health services in Oman were very good but very expensive. Bangladeshi migrants could seldom access these services. To treat common illness, Enamul had taken medicines with him when he left the country. Again if any of his relatives or friends flew to Oman he would ask them to get some medicines. He would take these medicines when he fell ill. His employer would only allow employees to go to hospital if issues were critical.
In 2020, after the COVID pandemic reigned in, the company was shut down and Enamul was sent back to Bangladesh. His older son aged 22 years who worked as a migrant in Oman, too, had to come back to the country for similar reasons. Now, Enamul is the sole earning member of his family. However, he does not have a fixed monthly income. He earns money only when he receives a sewing order from someone.
On Wednesday evening, Refugee and Migratory Movements Research Unit hosted a meeting on migration and migrants' health issues with key stakeholders and its executive director Dr CR Abrar moderated it.
RMMRU, along with four other organisations from India, Pakistan, Nepal, and the Philippines, are participating in a variety of activities to collectively advance the workers' agenda at the national, regional, and global levels, the expert said.
Parliamentarian Caucus on migration and development chairman, Barrister Shamim Haider Patwary said that a standard agreement should be in place with mandatory health cards for the migrant workers to have their access to health services.
Caucus secretary general Mahjabeen Khaled said a quota system should be introduced for the returnee migrants so they could access health services on priority basis.
She stressed on providing proper training to the migrants, especially, the women migrants to keep their health well in host countries.
Former foreign secretary Md. Touhid Hossain said health cards should be provided to the migrant workers under responsibility of the government and recruiting agencies.
"If the migration cost is not cut down, migrants will continue to get abused," he said.
Caucus member Tanvir Shakil Joy, former joint secretary Kazi Abul Kalam, former BMET director Dr Nurul Islam, Awaj Foundation director Anisur Rahman Khan, BAIRA secretary general Shameem Ahmed Chowdhury Noman, Ahsania Mission's Dr Rehana, Winrock International's Akib Anwar and RMMRU director Marina Sultana, among others, spoke at the meeting.
According to the Bureau of Manpower, Employment and Training, over 14 million migrants of Bangladesh have gone abroad with various types of jobs since 1976. About 90 percent of the migrants were employed in nine countries, said BMET officials.
Wage Earners Welfare Board that deals with repatriation of dead bodies and sick migrants from host nations, has been providing welfare services to the migrant workers and their families.
WEWB data show that Bangladesh received more than 45,000 dead bodies of migrants in 16 years from FY 2005-2006 to FY 2020-2021.