No shortage of sacrificial animals for Eid: Minister
BI Report || BusinessInsider
Published: 19:56, 3 July 2022 Update: 20:01, 3 July 2022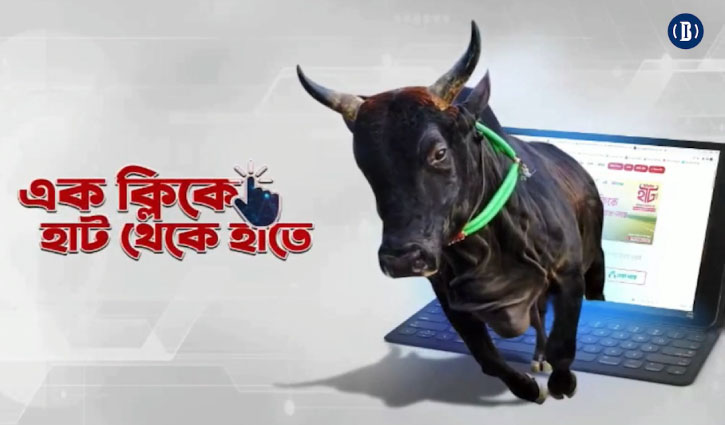 Digital Haat logo
Fisheries and Livestock Minister SM Rezaul Karim has said the government has enough cattle in stock and there will be no shortage of sacrificial animals this Eid-ul-Azha.
The minister was speaking at the inauguration programme of the newly designed online cattle trading platform "Digital Haat" on Sunday.
He informed that there are over 1.21 crore sacrificial animals ready across the country for sacrifice during Eid-ul-Azha against a demand of 97.95 lakh.
He further informed that the "Digital Haat" website is now presented with a new look and added features. The platform this Eid is being operated by the government's ICT Division.
The platform started its journey in 2020 amid high demand induced by the pandemic. It was then operated by the E-Cab.
The minister said the platform will run all year round where buyers and sellers can trade cattle using the latest technologies.
This will include live video streaming where both parties can interact to choose the animal they want and also get the best deal.
Explaining the perks of shopping cattle online, the minister said, the farmers can sell animals from their homes without any hasil (tax) and buyers can get their animal of choice without any possibility of extortion.
Purchasing animals from the site will also enable buyers to have a refund and return opportunities, he further said.
Special trains carrying sacrificial animals will start from July 6, the minister added.
Commerce Secretary Tapan Kanti Ghosh, who was also present at the programme, said that the Prime Minister had instructed authorities concerned to seek avenues on how Bangladesh can become a halal-meat-exporting country.
Citing the Prime Minister, Ghosh said that Brazil, a non-muslim country, is a major halal-meat exporting country. Bangladesh should also look into how to enter the global halal meat market.