Prime Minister Sheikh Hasina to Open a Bridge of Pride, Perseverance Today
BI Report || BusinessInsider
Published: 10:02, 25 June 2022 Update: 10:54, 25 June 2022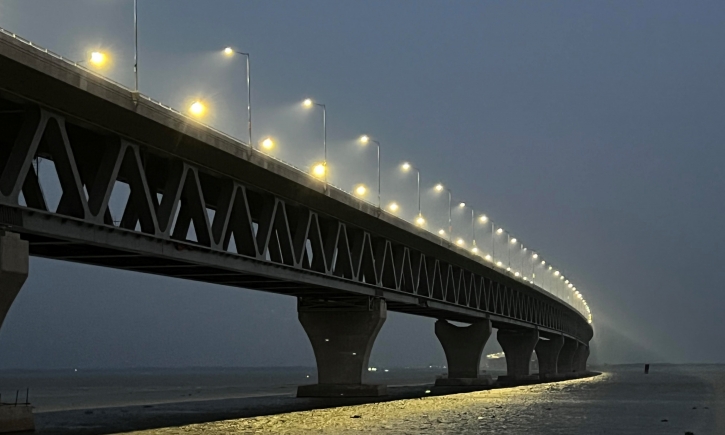 Pride of Bangladesh, the Padma Multipurpose Bridge is being inaugurated by Prime Minister Sheikh Hasina today. UNB photo.
It's not mere a bridge. Its Bangladesh's self-esteem, ability and perseverance. The much awaited Padma Bridge will be inaugurated today through a rejoicing celebration.
It will be a grand moment for Bangladesh when Prime Minister Sheikh Hasina will open the 6.15-kilometer-long Padma Multipurpose Bridge today.
Built with the nation's own expenses, it's a pride that takes the nation to monumental height in terms of dignity and self-confidence.
Constructed at a cost of Tk 30,193 crore, the bridge will be connecting the backward southwest region with the rest of the country. It is expected that the bridge will be adding 1.2 percent to 1.7 percent to Bangladesh's GDP every year.
To join the gala of the two-tier bridge, at least a million of jubilant citizens will throng the massive inaugural ceremony at Madaripur this morning.
Before joining the public meeting, Prime Minister will open the nameplate of the bridge at Mawa point and pay toll to cross it and open another nameplate at the Jajira point on the south bank of the river.